New Nigerian buharism and democracy
GEORGE ONUORAH | 4/23/2015, 4:17 p.m.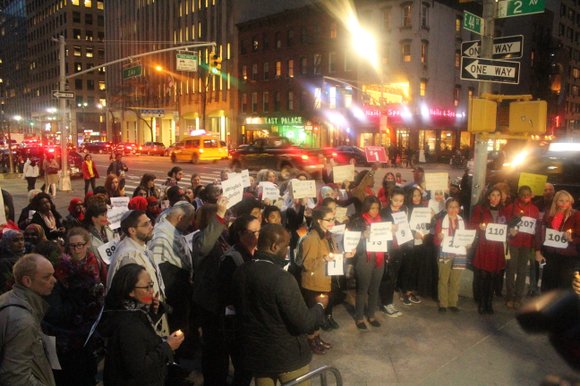 Nigeria, Africa's most populous nation, has turned a new page and heralds a new dawn with her March 28 presidential election that saw the emergence of Muslim politician and former Gen. Muhammadu Buhari elected to the highest office in the land.
Nigerians throughout the globe are celebrating, hoping for real democracy, transparency in government, elimination of corruption in government, a policy of putting Nigerians first by addressing their needs and aspirations and defeat of the violent Boko Haram insurgency in the northeast. Nigerians are sick and tired of the indifference of governments and officials who do not address bread-and-butter issues.
So who is this new leader that an overwhelming majority of Nigerians decided to entrust with their destiny at this critical juncture in the country's political development and evolution? What is his background, and how is he perceived in the largely Christian south?
Buhari was born in 1942, in the northern Nigeria state of Kastina. He is a retired major general in the Nigerian Army, who was head of state, after a military coup de'tat, from Dec. 31, 1983, until Aug. 27, 1985. He also served as chairman of the Petroleum Trust Fund during the Abacha regime, establishing his reputation as someone who is transparent and fair-minded.
Not surprisingly, many Nigerians have become increasingly perturbed and disenchanted by the events in the nation and yearn for a change from the near-absolute power of the entrenched People's Democratic Party. So naturally, the All People's Congress, which is a coalition of political parties, became a strong opposition against the 16-year domination of the PDP.
Buhari was chosen to lead the APC, but some doubted his viability and ability to triumph at age 72, considering that he ran for president in 2003, 2007 and 2011 and lost each time. Many Nigerians were asking the same question: "Where are the new generations of young Nigerians who should be running for political offices, especially for presidency?"
Four years ago, Buhari was able to win approximately 10 million votes, mainly in the northeast, where he appeals to his Muslim base. But this time around, the choice of a Christian southerner, the professor and pastor Yemi Osibanjo, as his vice president worked magic. Many Christian southerners were still suspicious of the former general from the north becoming president, and more so because of a pro-Muslim stance attributed to him. But on Jan.4, Buhari declared, "Religion must never be used as an excuse to divide us, oppress others or gain unfair advantage. All my life I have expressed the belief that all Nigerians must worship God according to their wish." That statement to an extent has doused the fire, and for some, the focus is on leadership.
The fear expressed by some that a single leader can unilaterally declare the country to be of one religion is a fallacy. Nigeria has a democratic system consisting of the presidency, the judiciary and a bicameral legislature composed of the Senate and the House of Representatives. There are checks and balances to guard against such an autocratic event.