B'More Unrest
Salim Adofo | 4/30/2015, 9:32 a.m.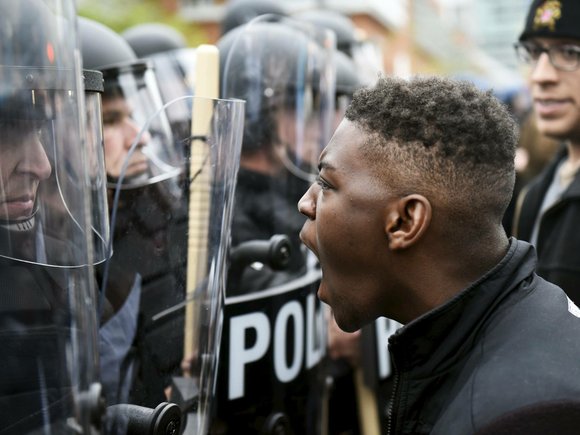 The killing of another Black male by police left Baltimore burning Monday, April 27, 2015. It is calmer now, with curfews, multiple arrests and a simmering anger replacing the unbridled outrage that followed the funeral of Freddie Gray.
The irony is not lost on social observers that the volatile response to a death in police custody occurred just two days before the 13th anniversary of the 1992 civil unrest ignited by the vicious videotaped police beating of Rodney King in Los Angeles.
Several thousand people have come out into the streets of Baltimore protesting the killing of 25-year-old Freddie Gray over the past few days. Police arrested Gray April 12, without resistance or incident, and he died from injuries suffered while in custody. His family said that his voice box was crushed, 80 percent of his spine was severed and his neck was snapped. Gray eventually slipped into a coma and died April 19.
At a press conference this week, Deputy Police Commissioner Jerry Rodriguez said, "When Mr. Gray was put in that van, he could talk and he was upset. … When he was taken out of that van, he could not talk and he could not breathe."
Police Commissioner Anthony Batts stated that his officers did not give the proper medical attention that Gray needed. However, many community residents want to know why he needed medical attention in the first place. A cellphone video recorded by a community resident shows police officers dragging Gray into a police van. In the video, Gray can be heard crying out in pain, and residents stating that his legs looked broken.
"The Civil Rights Division and the FBI have an ongoing, independent criminal civil rights investigation into the tragic death of Mr. Gray," said the nation's new attorney general, Loretta Lynch. "We will continue our careful and deliberate examination of the facts in the coming days and weeks. The Department [of Justice]'s Office of Community Oriented Policing Services has also been fully engaged in a collaborative review of the Baltimore City Police Department."
The Rev. Heber Brown, who led a major protest over the weekend into downtown Baltimore and to City Hall said to the protesters, "They shut down water to the residents, but keep water on for the businesses. The businesses in downtown around Camden Yards in Baltimore are the real power brokers. They do not want us here, but we are here now and we want justice."
The Nation of Islam is among many of the community-based organizations that took to the streets and tried to engage the angry youth. Like the other community leaders, clergy and activists, they created buffers between heavily armed police and riled-up young people and prevented the wrecking of community-owned businesses. Images of the Bloods and Crips proclaiming a truce and a dedication to stand in alliance to build up the community inspired many.
The funeral for Gray, held Monday morning, was followed by a chaotic standoff between Baltimore City school students and a militarized police force. The Baltimore Police Department sent out a press release stating that it had received intelligence from an unnamed source that street organizations, the Bloods and the Crips, had united to kill police officers.