Welcome, Attorney General Loretta Lynch
Herb Boyd | 4/30/2015, 9:35 a.m.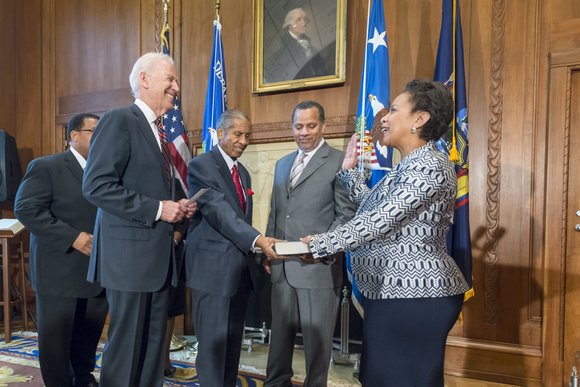 U.S. Attorney General Loretta Lynch had hardly finished being sworn in Monday as the first African-American woman to hold the position when the outrage and violence in Baltimore after Freddie Gray's death in police custody became an immediate flashpoint.
In effect, she has to hit the ground running with a situation that is becoming all too customary in America. Lynch's first statement upon taking office was her promise that the Justice Department will continue the investigation of Gray's death and send two top officials to Baltimore to help calm the city and stop the rioting.
"As our investigative process continues, I strongly urge every member of the Baltimore community to adhere to the principles of nonviolence," Lynch said in a statement Monday evening. "In the days ahead, I intend to work with leaders throughout Baltimore to ensure that we can protect the security and civil rights of all residents. And I will bring the full resources of the Department of Justice to bear in protecting those under threat, investigating wrongdoing and securing an end to violence."
It had taken five months for Lynch to be confirmed, but it was only a few hours before she was pressed into action. She was narrowly confirmed by the Senate last Thursday.
Lynch, 55, was nominated in November by President Barack Obama to replace Eric H. Holder Jr., but her confirmation became entangled in an imbroglio over human trafficking, which was finally settled in a compromise on the funding proceeds from offenders.
It was clear from the earlier vote to move forward at 66 to 34 that she would be confirmed. The questioned remained over which of the Republican senators would join the 44 Democrats. Ten of them did, as well as the two independents, in the final vote of 56 to 43, with Republican Tim Scott of South Carolina, the only Black senator, voting no.
Interestingly, Scott's fellow senator from South Carolina, Lindsey Graham, voted to confirm her, along with Sens. Orrin Hatch of Utah and Susan Collins, who spoke very passionately in support of Lynch.
"She is the embodiment of the American dream," Sen. Claire McCaskill said of Lynch during her supporting remarks before the vote. These sentiments were echoed by Sen. Chuck Schumer, who said she brings a "judicious balance" to the position and that the "only cloud is how long it took to confirm her."
Among the Republicans to address the Senate during the process was Sen. Chuck Grassley of Iowa, chair of the Senate Judiciary Committee. From the very beginning of Lynch's nomination, he had expressed his opposition to her succeeding Holder, insisting that she was not independent enough and "she won't commit to a new way of doing things." He said he had voted for Holder but now had come to regret it. The Department of Justice, he said, has become "deeply political."
"I guess I was naive in thinking my Republican colleagues would treat Loretta Lynch with the dignity that she and her office deserve," said Minority Leader Harry M. Reid, countering Grassley's concerns and noting that "my mistake was forgetting that for Republicans, this isn't about Loretta Lynch. It's about President Obama."
Shying away from blaming the delay on Lynch's race, Obama said the entire process had taken too long. "Enough. Enough. Call Loretta Lynch for a vote. Get her confirmed. Put her in place. Let her do her job."
Lynch is now finally in place, and before her is a formidable job, not the least of which is dealing with the rampant outbreak of police misconduct across the nation, most recently in Baltimore. The Obama administration has taken some hits for being less than aggressive on this matter, but Holder and the Justice Department were investigating a number of police departments in the nation, placing them under consent decrees.
Rep. Charles Rangel was among the first elected officials to respond to Lynch's confirmation. "I applaud the Senate's confirmation of Loretta Lynch to succeed Attorney General Eric Holder. By allowing her to become the first African-American woman to hold the post, her confirmation is an historic occasion. As dean of New York's congressional delegation, I am exceedingly proud of Loretta Lynch's service to the people of New York and have the utmost confidence in her ability to lead the U.S. Department of Justice in tackling many of the critical issues of our time. I look forward to working with her to advance civil rights and equality for everyone in America."