Adrienne West: From Queens to Europe
8/6/2015, 10:36 a.m.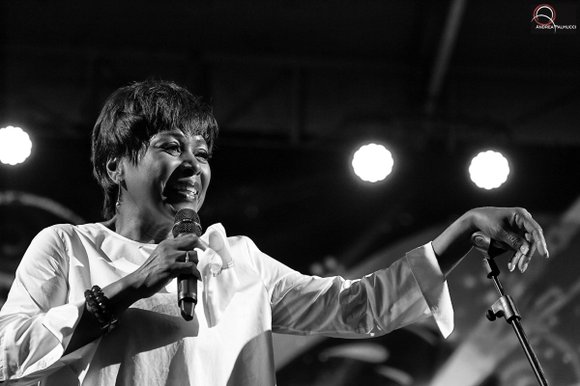 Last Sunday at Harlem's Abyssinian Baptist Church, with its large influx of loyal members and tourists, the spirited moment of truth came from the pulpit and the microphone of Adrienne West during her interpretation of Duke Ellington's composition "Come Sunday."
West, a native New Yorker, noted, "I love Ellington and aspects of his spirituals and references to God." She began singing at an early age in the choir of Cornerstone Baptist Church in Brooklyn before her family eventually relocated to Hollis, Queens.
She grew up with Mozart and began classical voice lessons at age 9. "At home, there was always spiritual hymns, classical, jazz and my mother took me to the theater," said West. "I loved the jazz vocals of Sarah Vaughan and Ella Fitzgerald, but I never considered it as a career."
West, who has been living in Europe for the past 20 years, earning international fame as a jazz vocalist, stated, "I was never a real gospel singer, and jazz is the last genre in my life."
West and her husband, David Cameron, are briefly in New York visiting family and to promote her latest CD, "With Love to Ella and Joe" on Dot Time Records. The album is available on Amazon.com.
The couple produced this 10-track CD, which was four years in the making. West teams up with Italian guitarist Alessio Menconi to pay tribute to Fitzgerald and the guitarist Joe Pass. "The renowned duo of Ella and Joe Pass is one of the most important musical landmarks representing the beautiful relationship between the human voice and the guitar," explained West.
For this vocal-guitar outing, West and Menconi reflect a fresh, intuitive duo. Her voice is sometimes smoky, as on "Green Dolphin Street." She raises the ante on "A Foggy Day" with a more jaunting swing. She brings a serene soulful flow to "Rain," and on "Love for Sale," she shows sassy twists on this mid-tempo interpretation.
West and Menconi totally represent the popular repertoire of jazz standards from the incredible musical journey of "Ella and Joe." West's voice flows like a soft breeze as Menconi's guitar notes swing like a fluttering butterfly playfully rollicking between, over and under her enchanting vocals. Welcome another worthy duo with stunning interpretations to the jazz scene.
While she didn't arrive in the city with a publicist, her older brother Ron West became her unofficial publicist. As one of the organizers of Abyssinian Baptist Jazz Vesper Series, he was instrumental in getting her debut at the church and live interviews on WBGO jazz radio and WHCR-90.3 FM (Diaaya Lomax's show "Gardens of Tranquility and Contemplation").
"I knew from my classical days I would live in Europe," said West. "I loved it and always told my mom it would happen." As a high school senior, West became disenchanted with singing classical music. She noted, "I wasn't having enough fun, I wanted to laugh more."
While attending her first year at Morris Brown College in Atlanta, she won an audition to sing the national anthem at the final playoffs of the Braves versus Mets series in Atlanta (1969). Still not sure about her music career, she returned to New York City and worked for the MTA for four years.