'The Wiz': George Faison celebrates a legendary hit
Zita Allen | 8/6/2015, 10:05 a.m.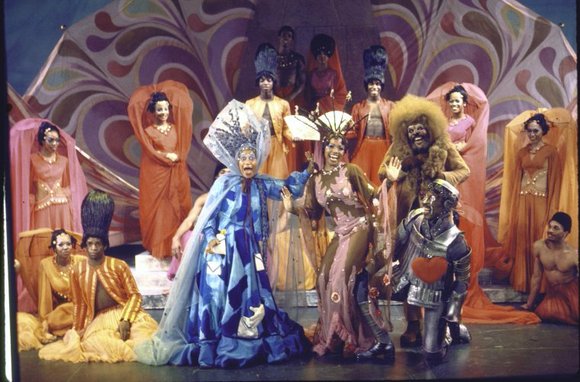 Tony Award-winning choreographer George Faison perches on the edge of his seat in front of the mirrored wall of his Harlem rehearsal studio. He is working with some 20 young dancers preparing for the upcoming celebration of the 40th anniversary of the 1970s Broadway smash hit "The Wiz." The long-limbed, technically impressive group listens to Faison's corrections then takes their places poised like thoroughbreds at the starting gate.
"OK, let's try it again," Faison says, "Five, six, seven, eight. Go!"
They fly across the studio floor, leaping and turning in tight clusters crisscrossing each other with split-second timing before running in an ever-tightening circle like a swirling tornado. Ever the perfectionist, Faison hops up and counts loudly while tracing the path the dancers must follow to create the climax that made this dance a Broadway showstopper. Timing is everything. Pointing to one group of dancers, Faison says, "You lead the swirl. Folks, when I say go, get the hell up and go. Now, again."
The clock is ticking. In a few days, this dance will be part of a show heralding "The Wiz: The Super Soul Musical 'Wonderful Wizard of Oz,'" the all-Black musical that opened at Broadway's Majestic Theatre in 1975. With book by William F. Brown, music and lyrics by Charlie Smalls with Timothy Graphenreed, Harold Wheeler and Luther Vandross, this retelling of L. Frank Baum's children's tale was a huge success. In fact, it won seven Tony Awards, including for Best Musical, Best Original Score, Best Direction (Geoffrey Holder), Best Costume Design (Geoffrey Holder), Best Performance by a Featured Actress in a Musical (Dee Dee Bridgewater), Best Performance by a Featured Actor in a Musical (Ted Ross) and, of course, the Tony that made Faison the first African-American to win for Best Choreography.
Faison says it was a performance by his spunky, spectacular George Faison Universal Dance Experience at Central Park's open-air Delacorte Theater during Joe Papp's Public Theatre summer dance concerts that led to "The Wiz" gig. "My company was the last on the program. We got a standing ovation. The audience didn't want to leave. Management had to turn the lights on and ask people to please leave the park! Producer Ken Harper came backstage and told me, 'I'm doing a show, a take off on 'The Wizard of Oz' with a Black cast.' He had Andre De Shields with him. He asked me to choreograph it."
That was in 1971. In the meantime, Faison made his Broadway choreographic debut with "Don't Bother Me, I Can't Cope." Then came "The Wiz," the game changer. All in all, Faison has choreographed 30 plays and musicals, worked in television and choreographed for such artists as Stevie Wonder, Ashford and Simpson, Earth, Wind and Fire, Roberta Flack and Gladys Knight and the Pips.
This year's 40th anniversary celebration takes place August 12, 7 p.m. at the Central Park's SummerStage at Rumsey Playfield and again on August 13 and 14 at 7 p.m. in Harlem's Marcus Garvey Park. Faison and actress Phylicia Rashad will host. Excited, Faison says singers De Shields, Bridgewater (Aug. 12 only) and Ebony Jo-Ann will reprise their original roles. Tony Award nominee, Stephanie Mills' role as Dorothy will be sung by Darlesia Cearcy who was her understudy on Broadway.