'The Wiz': George Faison celebrates a legendary hit
Zita Allen | 8/6/2015, 10:05 a.m.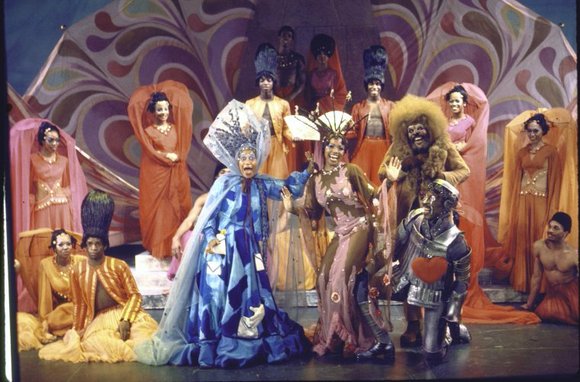 Over the show's four-decade history, the cast has featured an impressive roster that includes dancers Hinton Battle, Lettie Battle, Eleanor McCoy, Andy Torres and former Ailey company members Gary DeLoatch, Michael Peters and Loretta Abbott, among others. "Hundreds of Black performers got their Equity union card thanks to 'The Wiz,'" Faison said proudly, noting that the show also spawned numerous touring companies at home and abroad. Of course, there is also the 1978 film starring Diana Ross, Michael Jackson, Nipsey Russell, Lena Horne, Richard Pryor, Thelma Carpenter and Theresa Merritt. In fact, "The Wiz" is still the gift that keeps on giving. Later this year, NBC will revive the musical with Cirque du Soleil as co-producer, featuring Queen Latifa as the Wizard and Mary J. Blige as the Wicked Witch of the West, and rumors suggest that Beyonce is "in talks to star as Glinda the Good Witch."
"'The Wiz' is part of our theatrical history," Faison says later while seated in the sundrenched office he shares with partner Tad Schnugg at the Faison Firehouse Theater on Hancock Place, a stone's throw from the hustle and bustle of 125th Street. Faison bought the abandoned building in 1999, and with meticulous renovations, he converted it into a neighborhood gem—a 350-seat auditorium, cafe, dance and rehearsal space and recording studio. Its official opening featured none other than Faison's friend, the late author and artist Maya Angelou, whose wisdom he says has helped him navigate what many would describe as a charmed life.
"'The Wiz' for me represents a departure from the kind of theater that I grew up on. Geoffrey Holder, who took over as director from Gilbert Moses just before the show opened, helped create a fantasy of color, of costume. I was able to play with that and with the richness of my dance experience, all my dance experience," Faison says. He was also able to do four decades ago what many white choreographers have done, he adds. "I didn't sign away my right to my creativity, my intellectual property, so I've never had to go hat in hand begging for the right to do work I created."
Thanks to his business savvy, Faison has managed to not merely survive, but to thrive. From the day this Washington, D.C., native saw the Alvin Ailey American Dance Theater perform while he was a student at Howard University, he knew what he wanted to do. Scuttling plans to become a dentist, he moved to New York City, joined the AAADT (1967 to 1969), leaving later to join the Broadway hit "Purlie" and then form his own company. As a dancer, Faison wowed audiences and critics alike. Of his performance in the "Sinner Man" section of Ailey's "Revelations," Times writer Jennifer Dunning gushed over "the sight of that gangling frame sliding across the floor" and "the nonchalant force of his spinning turns." His early choreography made an equally strong impression. "Suite Otis," still in the Ailey company repertory, once prompted former Times critic Clive Barnes to praise his "authentic choreographic gift" as showing "more than a touch of brilliance."
Now, Aug. 12 to 14, New York audiences attending the 40th anniversary celebration of the dance and music of "The Wiz" will be able to experience that touch of brilliance and more.