Akua Brenda Weekes, lifelong activist for the people, makes her transition
8/13/2015, 10:56 a.m.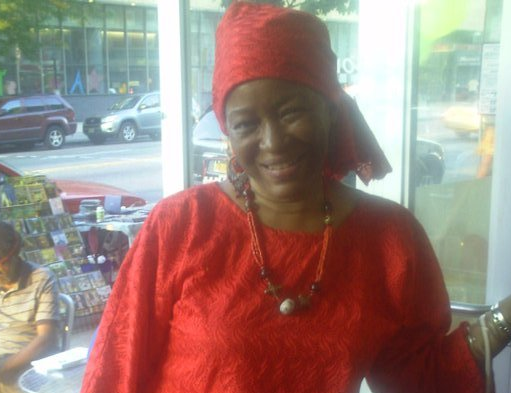 Akua Brenda Weekes, prominent pan-African community activist, teacher, writer, beloved mother, daughter, sister and grandmother transitioned Friday July 3 in Harlem. She was 65.
Born Brenda Weekes in the Bronx Sept. 28, 1949, to Norman and Eleanor Weekes, she attended Howard University and received her undergraduate degree in communications from American University in 1978. She earned a master of arts in liberal studies from SUNY Empire State College in 2000.
One of the greatest influences on Weekes' life was seeing the power of organized people in 1968, when she participated in the student takeover of the administration building at Howard University. Although the consciousness that brought her there was not to make a profound political statement, but simply to help out a dorm mate who was being hassled by the administration for her political activities, the success of that demonstration guided her activities during her six-year stint as a government secretary in Washington, D.C. She volunteered to be an EEO representative in three of the four agencies that she worked for during that time. She took her volunteer work very seriously, and needless to say, she was viewed as a troublemaker by the powers that be.
On May 31, 1969, Weekes birthed her son Hobson Randall McCain Jr., which was truly the greatest accomplishment of her life. He has since given her a beautiful daughter-in-law, Dawnita, and three wonderful grandchildren, Hobson III, Nia Dawn and Malcolm Ja Ja McCain.
Being a mother truly inspired her to want to create a better world for her son. This manifested in her work as a campaign worker for Walter Fauntroy to become a nonvoting representative from Washington, D.C., in Congress and for Marion Barry to become mayor of Washington, D.C. She also went back to school in 1975 to get a bachelor's degree in communication from American University. As a journalism student living in Washington, D.C., she organized a core group of residents of the Capital View community and published the People's Voice, a community newsletter.
Weekes' organizing skills did not go unnoticed by the All-African People's Revolutionary Party, and she was recruited into their ranks in 1977. There she was introduced to political theory and ideology. By 1980, she was the lead organizer of the press for African Liberation Day and successfully gained 16 media spots for the organization, including three television spots, which was unheard of at that time.
In 1982, she returned to the Bronx and lived there until 1986, when she moved to Harlem.
Weekes loved Harlem and Harlem loved her back. During that time, she worked with the Pan Africanist Congress of Azania, the Afrikan Nationalist Pioneer Movement, Women For Justice, the Amadou Diallo Coalition and the Grassroots Leadership Council of the Amadou Diallo Coalition. She also was a member of John Oliver Killens Writers Workshop and did freelance writing for the Amsterdam News, The Black American and Emerge magazine. She worked as a temporary secretary in corporations and later as a substitute teacher in the New York City public schools. Seeking a spiritual base, she went to her ancient ancestral roots by studying with the Kemetic orders of the Ausar Auset Society and the Shrine of Ptah, which is now called Smai Tawi.