A few of my favorite (travel) things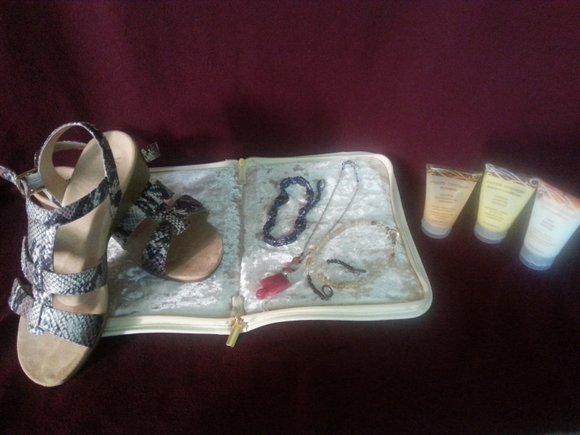 One of the benefits of being a travel writer is that you often find out about many of the latest travel accessories, gadgets, clothing, books and so forth as soon as they come on the market, each offering their own unique features for those on the go. Here are a few of the latest to come my way.
No Matter What Flatbed Duffel
Deciding which bag to take on which trip, and how much room you will have to store it (e.g., in the car, an overhead airline storage bin, under a train seat) is often tricky. But if you want something in between a large duffel bag and a traditional suitcase on wheels, opt for the No Matter What Flatbed Duffel.
Lightweight and durable, the Flatbed Duffel has a rectangular shape with a structured back, easily accessible interior and exterior pockets, heavy-duty oversized wheels with wheel housing and bumper protection, a sturdy handle system, reflective accents for nighttime visibility and is made of an ultra-durable waterproof fabric that resists cuts and scrapes and works well in any weather environment. And don't worry, you aren't subjected to just the customary black color, as it also comes in cobalt blue and firebrick red hues, as well as in four different sizes.
888-824-9460, www.eaglecreek.com

Mag Bag
For the most part, I'm fine with plopping my jewelry into two different and often very unattractive bags when I travel—one for rings and bracelets, another for earrings. But the challenge comes when I need to take necklaces or other baubles that get easily tangled with everything else, making extricating them from each other a nightmare.
Enter Magbag, billed as the first and only magnet-lined case that holds all of your objects in place. The case has a special liner system that flexes around your jewelry pieces while simultaneously creating a vacuum-seal effect so they won't move. So whether you carry inexpensive costume jewelry, a few regular favorites or the expensive stuff for a special occasion (wedding, graduation, summer event, etc.), your bling will be safe.
However, because Magbag uses magnets, it is not recommended for use with watches because it can interfere with the timing mechanisms. It also comes in three sizes to suit your particular needs: the On-the-Go (small), Overnighter (medium) and Extended Stay (large), in cream, black and white.
844-562-4224, www.getmagbag.com
Mixed Chicks
Don't even get me started on my hair! My style and look changes almost as often as the weather, and yes, the weather has a lot to do with how it looks on any given day. Lately I have been going with a wet, pick and clip look to make it easier for travel, especially when swimming and watersports will be involved. So I really need something to keep my hair not only looking great but also well-conditioned to survive, well, any current condition.
I have friends who have used Mixed Chicks and love it, so I decided to give it a try and it works wonders! According to the company, "Whether you're Black, white, Asian, Latin, Mediterranean, or any glorious combination of the above, you'll love the way these non-sticky, lightweight curly hair products leave your hair inviting to the touch as they define and lock moisture into every curl."