Charlie Parker Jazz Fest, Maxine Sullivan Way
Ron Scott | 8/20/2015, 10:50 a.m.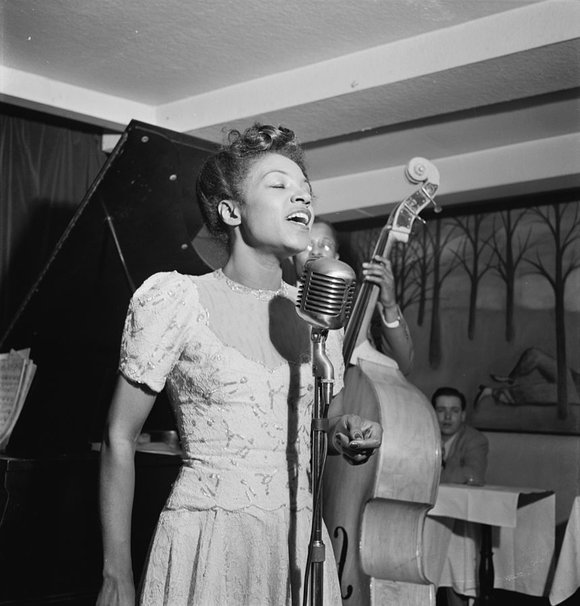 The phrase "Bird lives" refers to Charlie "Bird" Parker's iconic life as the most influential alto saxophone player in jazz. Everyday somewhere in the world, Parker's name is mentioned in conversation or his music is played. His undeniable style was characterized by crazy accelerated tempos, a virtuosic technique and improvisations so intense they wrestled listeners to the ground.
Parker was so fierce, a few of his peers switched from alto to tenor saxophone just so they wouldn't have to be compared with him. His hometown of Kansas City erected a giant bust in his honor. It's unfortunate this musical genius died at the young age of 34. Bird's larger than life aurora will glow Aug. 21 to 23 as SummerStage presents the annual free Charlie Parker Jazz Festival.
The festival opens with Oliver Lake Big Band and King Solomon Hicks in association with Jazzmobile featuring Michela Taps, "Bird Lives! in Harlem" at Marcus Garvey Park at the Richard Rogers Amphitheater on 122th Street and Mt. Morris Park West from 6 p.m. to 9 p.m. Lake will present a new commissioned work titled "Dedicated to Charlie Parker: In the Spirit." "I love participating in the Charlie Parker Festival, especially with the big band. This is the first time we will be playing in Harlem," Lake said.
Lake released his second big band recording about a year ago, titled "Wheels," for his independent record label Passin' Thru at Brooklyn's Peter Karl Studios.
Lake is a traditionalist who is more comfortable on the outskirts of the jazz perimeter swimming in the avant-garde waters of creativity. The poet, artist and composer is a member of the collaborative Trio 3 with the bassist Reggie Workman and the drummer Andrew Cyrille. He is the co-founder of the World Saxophone Quartet with Julius Hemphill, Hamiet Bluiett and David Murray.
Aug. 22, the festival continues at Marcus Garvey Park from 3 p.m. to 7 p.m. with an all-star lineup, including organist-composer Dr. Lonnie Smith, who riddles his jazz with intensified blues and funk. Smith's accomplishments have earned him legendary status as the most proficient jazz musician on the Hammond B-3, recording over 30 albums as a leader and performing with Lee Morgan, King Curtis, Blue Mitchell and Joe Lovano.

Andy Bey, a profound jazz singer whose smoky velvet voice turns songs into spellbinding stories, and Jeff "Tain" Watts, the hard playing drummer who follows in the tradition of Elvin Jones, will also perform. The young female saxophonist moving up the recognition jazz ladder is Camille Thurman. Norma Miller isn't a musician, but she was a Lindy Hop dancer constantly on the floor at the Savoy Ballroom during those acrobatic moves. She rounds out the day in Harlem. Her biography, "Swingin' at the Savoy: A Memoir of a Jazz Dancer," documents the swing dance era.
For the finale Aug. 23, the festival moves to Tompkins Square Park in the East Village (East Seventh Street and Avenue A). The concert, from 3 p.m. to 7 p.m., will include Rudresh Mahanthappa's "Bird Calls."