Electeds, community leaders call for unity in fight againtst poverty, homelessness
8/20/2015, 1:48 p.m.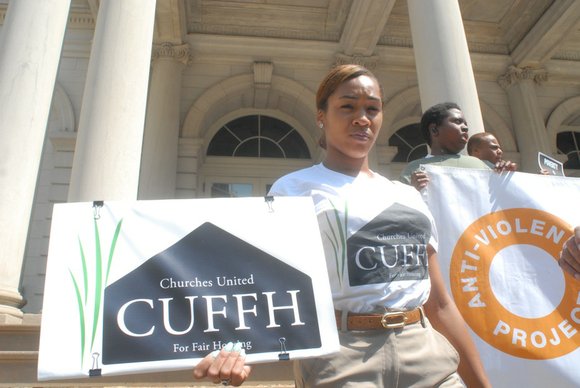 This week, members of the United Nations brought up the issue of increasing homelessness in New York. At about the same time, at a rally at City Hall Tuesday, Communities United for Police Reform, elected officials and a diverse group of homeless and anti-poverty advocates united to call for an end to the recent public dialogue in New York City that has, in effect, sought to demonize and shame homeless and poor New Yorkers. The group specifically pointed to media coverage by the New York Post—that others have followed—and a recent campaign by the Sergeants Benevolent Association to take pictures of homeless and poor New Yorkers on the street as beneath the character of New York City and sowing division through vilification of vulnerable New Yorkers.
"The direction of the conversation in our city about homeless New Yorkers has continued to get crueler and more damaging to our city, and enough is enough," said Priscilla Gonzalez of Communities United for Police Reform. "The demonization of our poor and homeless neighbors dangerously promotes harassment of them and only serves to divide us while failing to move us toward real solutions that alleviate poverty and the affordable housing crisis. It's time to focus on solutions that will truly address those issues, not dog-whistle politics that demonizes and shames poverty."
Council Member Stephen Levin, chair of the Council's Committee on General Welfare, stated, "Rather than singling out and stigmatizing individuals who need our compassion, we should focus on ensuring that city services meant to help them are accessible, properly funded and responsive to their needs. What we need to effectively combat homelessness is a robust NY/NY IV agreement that guarantees the construction of 30,000 new units of supportive housing in New York City over the next 10 years, not public shaming."
The group of advocates and community leaders sought to move the public conversation away from the destructive path that tears poor and low-income people down, and toward solutions that can improve the city and advance its best interests.
"Those who attack homeless people of New York have disgraced themselves and our city," said Andres Perez of Picture the Homeless. "The SBA and New York Post have offered our city nothing constructive in their demonizing and fearmongering of New Yorkers. We refuse to sit by silently while they continue with empty, regressive political rhetoric that threatens to take our city backwards. We want to focus on real solutions for homeless New Yorkers—a focus on permanent, truly affordable housing that is a fraction of the cost of temporary shelter."
Christy Parque, executive director of Homeless Services United, stated, "We must, as a city of bighearted New Yorkers, work towards creating opportunities for our most vulnerable citizens that allows them to transform their lives by becoming stably housed. Sound policies that fund critical services, more affordable housing and a new NY/NY IV supportive housing agreement are the solution, not demeaning and dehumanizing them by creating an Internet meme out of their suffering."
Shelby Chestnut of the New York City Anti-Violence Project stated, "The New York City Anti-Violence Project stands with all New Yorkers who are demanding an end to the dehumanization of low-income and homeless New Yorkers, many of whom are people of color, LGBTQ, HIV-affected and immigrants. They are being targeted and criminalized by news outlets and the SBA simply for surviving, and instead we call for increased access to services to address the needs of low-income and homeless New Yorkers who are some of the city's most vulnerable populations."