Mary Edmonia 'Wildfire' Lewis, a trailblazing sculptor
8/20/2015, 2:15 p.m.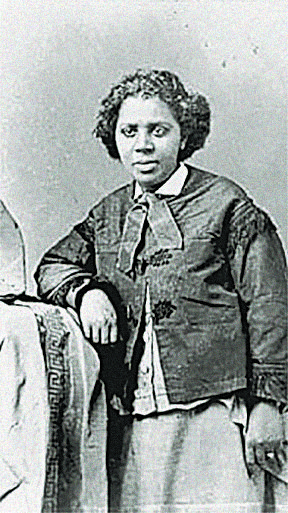 Special to the AmNews
Hearing about the current economic situation sculptor Gabriel Koren is enduring is reminiscent of another sculptor, Mary Edmonia Lewis, who, unlike Koren, was a Black and Native American artist born around 1844 in Greenbush, N.Y., a suburb of Albany.
Like Koren, Lewis excelled in depicting human forms, none more notable than her bust of Col. Robert Gould Shaw, the leader of the famed Black regiment that bravely fought and died in the Civil War battle at Fort Wagner. Her bust of the colonel won her critical acclaim and a relative amount of commercial success.
Very little is known of Lewis' early years, though there is a consensus that she was the daughter of a Black father and a part-Ojibwa mother. She was orphaned at an early age and raised by her mother's relatives, Lewis often claimed. It was during this phase of her life that she also adopted the name "Wildfire," perhaps an early indication of her self-identity.
Her childhood was filled with adventures in the wilds, playing with her Chippewa Indian children, but she was soon on a path out of the wilderness—thanks to an older brother who had amassed some wealth as a gold miner in California—into the corridors of Oberlin College.
The abolitionist atmosphere at Oberlin, the first college in the nation to admit women of color, was conducive, and Lewis was immersed in the activist tradition, which to some extent was captured in her early drawings. It is still not clear how she got involved in circumstances in which she was accused of poisoning two white classmates.
As a result of the charges, she was severely attacked and beaten by a white mob. After recovering from the attack, she left immediately for Boston. She had been defended by attorney John Mercer Langston, and the charges against her were later dropped. But her troubles were not over, and later she was accused of stealing art supplies, which led to her expulsion from the college.
Upon arrival in Boston, she was once again absorbed in abolitionism, mainly through her introduction to William Lloyd Garrison, one of the foremost leaders in the community. She was also befriended by sculptor Edward Brackett, who gave her additional lessons in the craft that would bring her renown.
By the 1860s, Lewis had her own studio and began creating clay and plaster medallions of famous abolitionists, including Garrison and John Brown. These products were widely sold and distributed, earning her income and a growing reputation as an artist.
But it was her bust of Shaw that gave her the greatest exposure and the funds she needed to leave America and settle in Florence, Italy, where there was already a thriving enclave of women artists. Among those who assisted her acclimation in the city was Hiram Powers, himself a prominent artist. Through his guidance and connections, she was soon ensconced in a studio once occupied by one of Italy's foremost sculptors.
Italy was a perfect environment for Lewis, and her artistic vision and imagination flourished, fueled by her attachment to Catholicism and the creation of religion-themed productions. Even so, she continued to provide time and interest on African-American themes, which culminated in her remarkable "Forever Free" in 1867 that depicted a Black man and woman breaking the chains of bondage. (That piece can be found in the art collection of Howard University.)