Community Calendar 8/27 - 9/2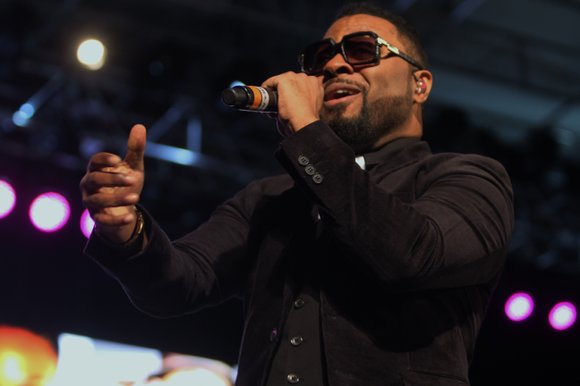 Greetings! My long-time friend and songwriting partner Stevie Wonder performed pop up concerts in Washington, D.C., Philadelphia and here in New York City at Central Park's SummerStage. Wonder announced he will extend his "Songs in the Key of Life Tour" across 20 cities, hitting Madison Square Garden again Nov. 24.
Condolences to the families, friends and constituents of iconic political leaders and civil rights activist's Rep. Louis Stokes of Ohio and the brilliant Julian Bond, both of who recently made their final transitions after lives dedicated to public service.
THEATER
Lin-Manuel Miranda takes the stage as the unlikely Founding Father in "Hamilton: An American Musical," determined to make his mark on a new nation as hungry and ambitious as himself. An astonishing new musical exploration of a political mastermind at the Richard Rodgers Theatre, 226 W. 46th St. For more information, call 800-276-2392 or visit boxoffice.broadway.com.
"Amazing Grace," based on the true story of the beloved song, follows John Newton, a willful and musically talented young Englishman torn between following in the footsteps of his father—a slave trader in Britain's international empire of slavery—or embracing compassion. Nederlander Theatre, 208 W. 41st St., New York City. Call 212-821-8000 or visit www. nederlander.com.
Taye Diggs ("Private Practice," "The Best Man", "Rent") returns to Broadway in the Tony Award-winning, gender-bending, fourth wall-smashing musical sensation "Hedwig and the Angry Inch," now through Oct. 11 at the Belasco Theatre, 111 W. 44th St., between Broadway and Sixth Avenue. For information, visit www.hedwigbroadway.com.
Tyler Perry's "Madea On the Run," Thursday, Sept. 3 and Friday, Sept. 4 at 8 p.m. and Saturday, Sept. 5 at 12 p.m., 4 p.m. and 8 p.m. at the Beacon Theater, 2124 Broadway. For information, call 212-465-6500 or visit beacontheatre.com.
"Black Angels Over Tuskegee," the story of the Tuskegee Airmen that exposes their courage to excel despite the overwhelming odds against them, Sunday, Aug. 30 at 1 p.m. For information, call 800-276-2392 or visit boxoffice.broadway.com.
"Sistas" tells of the struggles, the joy and the triumphs of being Black and being a woman in America, Saturdays and Sundays, now through Sept. 19 at 4:30 p.m. at St. Luke's Theater, 308 W. 46th St., New York City. Call 212-239-6200 or visit telecharge.com.
MUSIC
Gladys Knight, Saturday, Aug. 29 at 8 p.m., the Grand Theater at Fox Woods Resort Casino, 350 Trolley Line Blvd., Mashantucket, Conn. For information, call 800-369-9663 or visit foxwoods.com.
Oleta Adams, Saturday, Aug. 29 at 8 p.m., B.B. King Blues Club & Grill, 237 W. 42nd St., New York City. For ticket information, call 212-997-4144 or visit bbkingblues.com.
Keith Sweat, Saturday, Aug. 29 at 8 p.m., NJPAC, One Center St., Newark, N.J. For information, call 973-642-8989 or visit njpac.org.
Chris Brown's "One Hell of a Night" tour, Sunday, Aug. 30 at 7 p.m., Nikon Jones Beach Theatre, 1000 Ocean Parkway, Wantagh, N.Y. For information, call 516-221-1000 or visit ticketmaster.com.
Freddie Jackson, Wednesday, Sept. 2 at 6:30 p.m. and 8:30 p.m., Smooth Cruise on the Hornblower Infinity, Pier 40, W. Houston Street at the West Side Highway, New York City. For more information, visit ticketweb.com.