'Justice or else':Farrakhan demands economic, social and political action in the face of injustice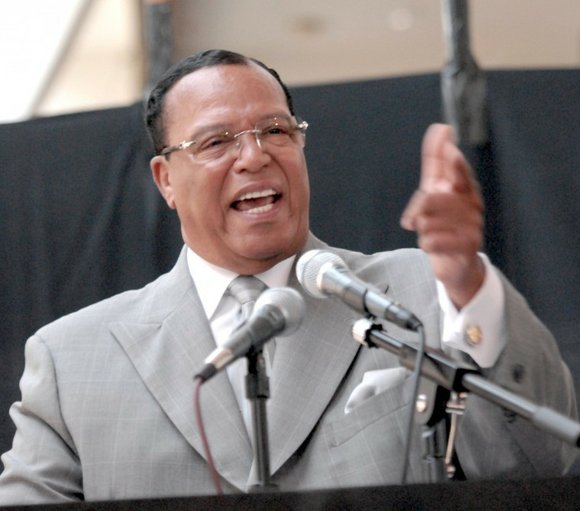 Quoting Dr. Martin Luther King, Nation of Islam leader Minister Louis Farrakhan demanded that a disaffected Black populace "must redistribute the pain" in the face of systematic and institutionalized racial injustice. Farrakhan was referencing King's April 3, 1968, speech, "I've Been to the Mountaintop."
The 83-year-old statesmen spoke during an Aug. 21 teleconference with almost 60 Black newspaper publishers, editors and members of the National Newspaper Publishers Association.
Hosting the call was NNPA President Dr. Benjamin Chavis, NNPA Chairperson and Washington Informer Publisher Denise Rolark Barnes and Richard Muhammad, NNPA Region 3 president and editor of the Final Call.
"10.10.15" has become something of a mantra among supporters of the October rally set to commemorate the 20th anniversary of the Million Man March in Washington, D.C. "Justice or Else" is the clarion call.
As he conducts his national tour speaking with Black media, hip-hop artists, Black businesspeople, entrepreneurs, activists, electeds, religious and community leaders and other influencers, Farrakhan states, "We've got a lot of work to do … a lot of bridges to build … a lot of businesses to support, and we've got a lot of young people whose anger has reached a fever-pitch. And anger uncontrolled and misdirected can lead to great destruction, but anger properly guided can be turned into a force that makes us very strong."
Farrakhan urged the newspaper heads to spread the word and help bring all sectors of the Black community to the National Mall on Oct. 10. He spoke of the need to eradicate crime, poverty, disaffection, economic disparity, mass incarceration of Black youth and educational and employment inequalities. He told the journalists to spread the word for people to unify, join organizations and become an active part of much-needed solutions.
He said, "Our problem is our lack of knowledge of self, our lack of love for self, our lack of unity for self. The Black race is not as strong as we could be or should be. ... The struggle is on two fronts. We cannot go to Washington and appeal to the government to intercede so that Black men and women receive justice in our courts, but then leave our own communities in shambles with us killing one another. We have to take responsibility for our own communities and work together to rid the fratricidal conflict that we see all over America."
He said individual responsibility is a first step and suggested other simple and practical moves.
"We could do better if we advertised our Black businesses in the Black newspapers … if we would buy them consistently each and every week they come out," he said. "We have to change the mentality of our people."
Farrakhan predicted that after 10.10.15, as in the aftermath of the 1995 Million Man March, inspired people will take up the cause and return to their communities to fight to pull them up and together.
"The struggle cannot end on October 10, 2015. … It will take on a new dimension of strength after the 10th. We should have a legislative agenda. We're not asking, we're demanding what's rightfully ours. We built this country. The world is before us if we take our own foot out of the way."