Tolliver at Sistas', Chuchito Bonafide, Roy Ayers burns
12/3/2015, 10:16 a.m.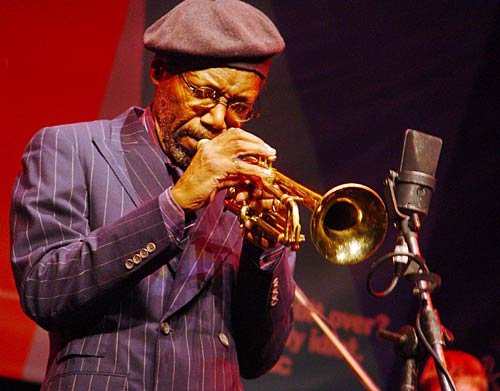 Charles Tolliver, the trumpeter, composer and arranger who is constantly expanding his terrain of the jazz genre, will appear for one night only at Brooklyn's Sistas' Place (456 Nostrand Ave.) Dec. 5.
Tolliver will be armed with his hard-hitting quintet, featuring Bruce Edwards on guitar, Theo Hill on piano, Devin Starks on bass and Carl Allen on drums. There will be two sets at 9 p.m. and 10:30 p.m. For reservations, call 718-398-1766.
Throughout the 1930s and 1950s, the jazz clubs on 52nd Street made up a special area of real estate known as "Swing Street." That area met its demise some time ago, but that swinging atmosphere has returned with the recent opening of Club Bonafide at 212 E. 52nd St.
The large neon signs of the 3 Deuces and Onyx are no longer bright symbols of that hip jazz scene, as this East Side club offers a modest printed sign out front. Customers walk up a few steps for entry and take the elevator or walk to the third floor. The bar is cozy and dimly lit as one moves into the 80-capacity room with candlelit tables. Bonafide isn't a jazz club, as its eclectic guest musicians stretch from jazz to world music and many rhythms in between.
On my recent visit, the multidimensional Cuban pianist, composer and arranger Chuchito Valdes was playing. His music is dynamic, the sound pulsating, a riveting flow that moves from cascading jazz riffs to swinging Latino dance roars. Valdes has the uncanny ability to play frantic salsa and mambo beats as his hands fly across the entire piano, and then he ends the tune on a mellow jazz note with a few high-note taps, Count Basie a la mode.

His quartet featured Mitch Frohman on saxophone and flute (a native of the Bronx, Frohman was a mainstay for Tito Puente and Mongo Santamaria and recorded with Eddie and Charlie Palmieri), as well as the bassist Luques Curtis and the drummer Joeo Mateo.
Valdes' arrangement of Duke Ellington's "Take the A Train" started as a serene piano solo before the tenor saxophone and bass heightened the improvisational conversion, putting the train on a fast track.
Valdes took to the blues on a solo original composition that encompassed classical stylings, with enchanting Cuban rhythms, a deep-hearted soul tune reflecting a taste of Cuban rum, beans and rice and a little 125 Harlem.
Despite being a child prodigy, Valdes was born into a jazz piano dynasty. He is the third generation to carry on the tremendous Afro-Cuban jazz tradition of his father Chucho and grandfather Bebo Valdes.
Valdes, who currently lives in Mexico, began his professional career as a 16-year-old performing with Cuba's legendary singer and trumpeter Bobby Carcasses, co-founder of the Havana Jazz Festival. Over the years, he has been nominated for a string of Latin Grammy Awards, including his 2013 releases of "Grand Piano Live Piano" and "Carnaval en Piano Charango."
Club Bonafide is a play on the owner's name, noted bass guitarist and composer Richard Bona. He and his partner Lolo Dantonio opened the club Sept. 9. It took the two partners eight years to find this "perfect location."
Bona played regularly in jazz clubs while living in France, with players such as Manu Dibango, Salif Keita and Didier Lockwood. In 1995, the Cameroon-born musician relocated to the city of New York, where he became a regular on the scene, playing with artists such as Joe Zawinul, Branford Marsalis, Chaka Khan and Bobby McFerrin.
"I went to a club to see a friend perform and found out that he had to pay $600 to even play in the club. I wondered why must every cost go up, but artists' fees go down?" Bona asked in a Village Voice interview. "I decided to create a club where the musicians can make money playing, where they can sell their CDs and get 100 percent of the revenue. I want to do something different, and I believe we can run a club where everybody can make money."
Club Bonafide will focus on providing support for the musician, where they will not be temporarily barred from performing at other venues before or after their show date.
Bona has plans to include a Sunday jam session for student musicians and a day dedicated to classical musicians each month. Bona feels there are some great classical musicians in this city who need to be heard in a different environment.
Roy Ayers, the innovative vibraphonist who married jazz, funk and R&B into his own soulful genre, has not lost his groove, as he demonstrated at his recent Blue Note engagement.
Hands in the air moving frantically to the beat, heads bobbing and shouts of "I love Roy!" made it apparent that Ayers still reins in the world of jazz funk. As Ayers began singing his all-time hit "Everybody Loves the Sunshine," the audience broke out in cheers. He ran his string of hits, such as "Searchin'," "Third Eye," "Red, Black, and Green" and "Don't Stop the Feeling."
The 75-year-old Ayers has been spreading his special brand of soul-funk for six decades, which included his 1970s band Ubiquity. Although a native Californian, he has been a New Yorker since the early 1960s. He was an early mainstay on the Upper West Side at Mikel's, where Miles Davis used to sit in the corner and James Baldwin's brother David was the bartender.
Ayers' reliable group included Mark Adams on keyboards, the bassist Donald Nicks, the drummer Bernard Davis and vocalist John Pressley. Ayers has always been ahead of the curve. His performances and deep list of compositions are a testimony defying the winds of time.