Busta busts through hip-hop's glass ceiling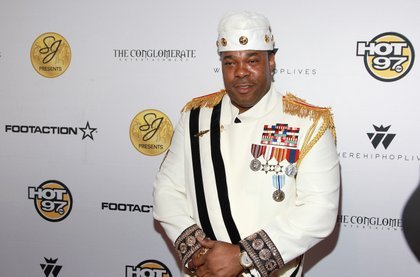 Let me tell you, the Busta Rhymes show at the Prudential was phenomenal!
He brought fellow hip-hop heavy weights to his "Hot for the Holidays" concert hosted by Footaction at The Prudential Center in Newark.
Spliff Star and the put-to-work-again dancing cast of "Coming to America" welcomed King Busta Rhymes to the stage with "Put ya hands where my eyes can see!"
Thus commenced the high level of theatrics, lyrical ability and 25-years-of-throwback tracks. Oh, those grown folks in the audience had themselves a time. Yes we did!
With the passion of a great loyalty, the artists Busta chose to share the stage with gave the sold-out Prudential Center crowd their all. Not only did Busta celebrate his 25 years in the music industry with his "day ones" Tribe Called Quest, Leaders of the New School, Mary J. Blige, Lil Kim, Naughty by Nature, Jadakiss, Method Man, Redman, Raekwon, Mariah Carey and Diddy but also bursting onto the stage were the likes of Lil Wayne, Rick Ross, Jeremih, Fety Wap, Junior Reid, French Montana and Sean Paul.

The ladies were grandly represented by Rah Digga, Mary J. Blige, Lil Kim and Mariah Carey. The audience was too full as the three-hour show took the people through the 90s and the 2000s. Proper old school hip-hop. Too many to mention. Fans will get it. Busta rocked his most popular tracks, and his guests did likewise.
At the end just after midnight, a teary eyed Busta thanked his "day ones" Spliff, Q-Tip, Leaders of the New School, Diddy, The Lox, Naughty, Red Alert and Flex. And they embraced him. Nice. Good, clean, safe fun.
Big ups to Trio Entertainment and Prana Marketing. Prana is on a roll. Dec. 4, 2015, they hosted the brilliant Masters of Ceremonies, which was an old school hip-hop bonanza featuring Rakim, KRS1, Lords of the Underground, Black Moon, The Lox, Ja Rule and Mad Lion. Real hip-hop heads were impressed. The next Prana show at the Prudential Center (Dec. 18, 2015) stars Patti Labelle, New Edition, Tyrese, Monica, Jaheim and other guests. For more information log on to www.NJPAC.org.