D.A. Ken Thompson hosts another big Begin Again program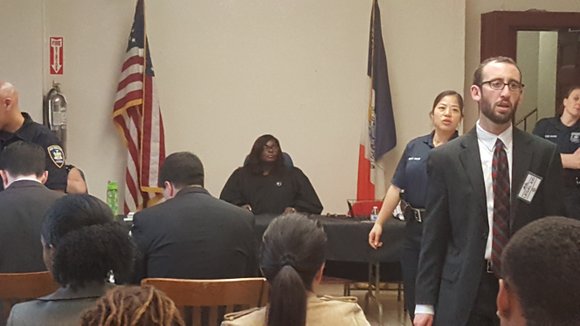 Warrants can hang over the heads of people like the Sword of Damocles. With this omnipresent threat preventing some city residents from moving forward in their lives, Brooklyn District Attorney Ken Thompson hosted his third Begin Again event Saturday, Dec. 5, at the Mount Lebanon Baptist Church, in Bed-Stuy, Brooklyn. His office determined,"There are approximately 1.1 million open warrants citywide, and they carry a number of negative consequences, including subjecting the warrant holder to arrest at any time."
The district attorney's office partnered with the Legal Aid Society, the Office of Court Administration and the NYPD to provide on-site legal counsel and give New Yorkers a chance to clear their old warrants.
Thompson said that more than 1,800 people from all five boroughs attended the two Begin Again events held in June and September, and more than 1,300 outstanding warrants were cleared.
Attendees at Saturday's event expressed relief that they were finally able to clear the warrants.
Up to 500 people came through the doors, took a number and sat in the sanctuary, where a movie played, lunch was served and the D.A., Public Advocate Letitia James and a host of politicians and community leaders addressed them on various issues.
Although the NYPD was present, monitoring the inside and outside of the church and the makeshift court room, the atmosphere was more conciliatory and purposeful, rather than intimidating or hostile.
Cautious but ultimately relieved seemed to be the response of warrant holders as they first entered, and then exited the church.
As Thompson's office stated, individuals first consulted with attorneys from the Legal Aid Society to make sure only summons warrants were heard, and then they appeared before the judge, who vacated warrants issued because of the failure to respond to summonses for a multitude of low-level or "quality of life" offenses, such as having an open container of beer, walking a dog without a leash or being in a park after closing.
"It has been pretty positive," said Charisma L. Troiano, Thomson's press secretary. "Close to 500 people have come through—men, women, young and old people. We have had people who have come from Queens and Manhattan—New York City residents."
As people milled around in the church sanctuary, many waited patiently for their number to be called so they could go before the Hon. Judge Claudia Daniels-Depeyster.
Troiano told the Amsterdam News that people who did not handle (appear in court) the summons given for a low-level offense may be unaware that immediate bench warrants have been issued, and if their names are ever run by law enforcement, "the police officers are under obligation to follow that warrant, no questions asked."
"For a brisk day in December, to have 500 people come to Mount Lebanon is a great thing," D.A. Thompson told the Amsterdam News. "We have to meet people with low-level (offenses) warrants half way. I intend to lead the way. Thousands of people have come out to Begin Again. I think that law enforcement has to play a role, in that people who walk their dog without a leash, or engage in littering, or had an open can of alcohol—I don't believe that these people should be put in handcuffs and put through the system. So we need to do more of these around the city."