Homeless Crisis NYC: Stringer wants investigation into housing discrimination against homeless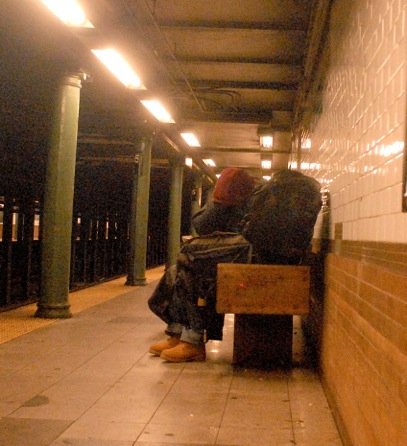 Donna Morgan, 50, works as a home health aide. But while she tends to the needs of others, New York City's landlords aren't tending to hers.
Morgan is homeless and has lived in a shelter for some time. She also has a Living in Communities Rental Assistance Program voucher. The program is run by the Department of Homeless Services. She thought this voucher would eventually help her find a home, but that hasn't been the case.
"I got a LINC voucher about eight months ago," said Morgan to the AmNews. "I've been as far as Staten Island, Manhattan, Brooklyn and the Bronx. Nobody knows about the vouchers, and those who know don't want to accept it."
Morgan said that her last voucher expired after a year because no one accepted it. "Nobody wants to touch anything that the city comes up with," she said. "They'll say, 'Oh, no ma'am, we don't accept that. We'll take Section 8, but we're not taking that voucher.' It's depressing and frustrating."
Stories like Morgan's have led New York City Comptroller Scott Stringer to call on New York City's Commission of Human Rights to investigate housing discrimination against homeless New Yorkers.
Last week, Stringer presented evidence of housing discrimination discovered on the website Craig's List and wants the CCHR to give his office information on how it investigates "source-of-income" discrimination. Stringer wants to focus particularly on those with LINC vouchers.
"These ads suggest 'no voucher holders need apply,' echoing generations of discrimination against New Yorker's most vulnerable citizens," said Stringer in a statement on Dec. 2. "In the most diverse city in the world, it is unconscionable that unscrupulous landlords can get away with using modern communications to turn back the clock on fair treatment. Today, I am calling on the city's Commission on Human Rights to redouble its efforts to eliminate these discriminatory practices and disclose what it has done to proactively find, stop and punish those who have broken the law."
In a letter sent to CCHR Chair Carmelyn Malalis, Stringer wants the agency to be aware of landlords who are unwilling to to accept LINC residents.
"As you know, the LINC program was created to help individuals and families residing in DHS shelters move into stable housing by covering a portion of their rent," read the letter. Stringer referenced the discrimination city residents with Section 8 vouchers faced and how the New York City Council, in 2008, added "any lawful source of income" to the city's human rights law, which bars discrimination based on categories such as race, age, national origin gender and sexual orientation.
Stringer attached Craig's List ads that state "NO VOUCHERS" in the title and others in which descriptive language alludes to the same concept. He wants the office to provide him with information that includes the number "lawful source of income" discrimination inquiries received, cases filed and settlements obtained from Fiscal Year 2011 to Fiscal Year 2015, the number of those investigations initiated by CCHR and the details of any collaborative work with DHS in obtaining data about clients whose LINC vouchers have been rejected by private landlords.