POP calling for international day of action on Martin Luther King's birthday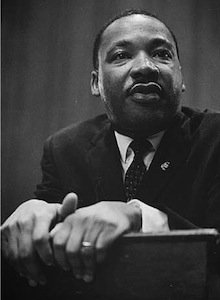 The People's Organization for Progress is calling for an international day of action in honor of Dr. Martin Luther King Jr.
In Newark, N.J., POP is hosting the Dr. Martin Luther King Jr. March for Racial Equality, Economic Justice and Peace to emphasize the call. Participants will assemble at the Lincoln Monument on Springfield Avenue and West Market Street in Newark at noon Friday, Jan. 15, King's actual birthday.
"It's time to heed some of the wisdom of Dr. King's last days and bring together progressive labor forces, college students and the youth and clergy and others in a real, more coordinated movement for racial equality, economic justice and world peace," said Lawrence Hamm, founding chairman of POP.
Hamm added that while the national holiday takes on a more ceremonial character, the actual birthday should be used to galvanize support around common issues around the world. This year, POP has been fighting for justice in several police brutality cases in New Jersey, including the cases of Abdul Kamal, Jerame Reid, Radazz Hearns and Kashad Ashford.
Organizations and individuals wishing to endorse and participate in the march can call 973-801-0001 and join POP's Facebook page.