Talking SCHOP! Row House on the Row
Kysha Harris, AmNews Food Editor | @SCHOPgirl | 12/24/2015, midnight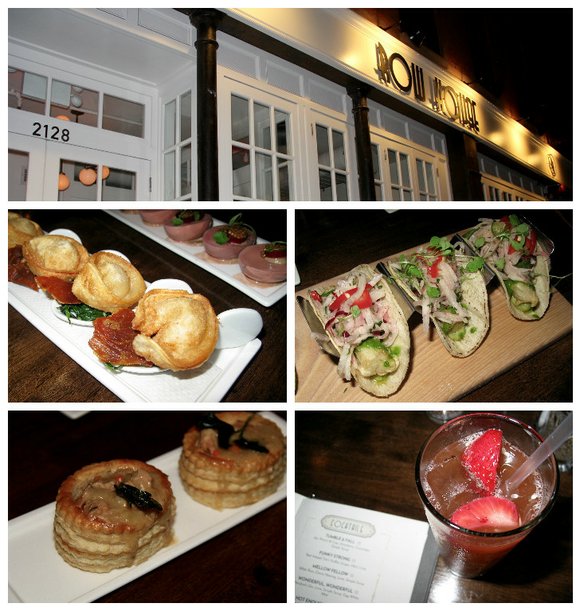 Harlem's Eighth Avenue adds yet one more restaurant to the list with the opening of Row House (@RowHouseHarlem, 2128 Frederick Douglass Blvd., 212-256-0019, www.rowhouseharlem.com) on the corner of 115th Street. Coming from the owners of nearby Harlem Tavern as well as Heights Tavern, Row House ventures to take a new approach to their third Harlem eatery.
Row House's name pays homage to the historic architecture of Harlem and incorporates many of the original structural design elements uncovered during construction. The former bricked-in corner has been replaced with an open facade of white paned French windows framing a dining room and bar, sitting atop their fully excavated cocktail bar and private event space, Under Bar.
Inside Row House, the completely renovated space is like nothing you have ever seen before. That is because this is the first anyone has seen of it in over 30 years. Once again, these owners have found a renewed hospitality spirit in forgotten and passed over locations (Harlem Tavern was a car mechanic garage, Height Tavern was a bank).
The decor of Row House is not only a mix of materials but of time periods and style. Think gastropub meets speakeasy meets country inn bistro. White washed exposed brick walls, steel chairs, hard wood floors, a backlit bar and eclectic lighting do their best to fill the large space.
Nestling into one of Row House's booths, I took in the menus starting with the cocktails. Each is named with some musical reference in mind. I ordered the Tumble & Fall with gin, Pimm's No. 1 Cup, strawberry and cucumber. No matter that neither my server nor I knew the drink's name reference, it did not disappoint. Plus my new favorite beer is on tap at Row House!
Aimed to be an American tapas restaurant, Row House has a bevy of small plates for guests to share in the categories of Harvest, Sea and Land as well as a few entrees for those who prefer to keep their plate to her or her self. Row House's seasonal approach means there will always be something new to try.
I sampled a few plates, starting with their seasonal cream of cauliflower soup, chicken liver mousse-filled deviled eggs with pickled shallots, candied mustard seeds and cilantro and, my favorite of the lot, what they are calling "cabonara dumplings." These are parmesan cream-filled fried dumplings served on a spoon with sauteed spinach and crisp prosciutto. They're an awkward mouthful of deliciousness.
I moved on to grilled Spanish octopus with lentils, cherry tomatoes, frisee, celery, lemon and pink perppercorns, mini chicken pot pies in puffed pastry shells and their latest version of fish tacos of cod with avocado, cilantro, lime, radish and jicama jalapeno slaw. The latter were packed with crunchy veggies and very spicy.
I ended my tasting with their version of s'mores featuring a thick, rich, dark chocolate ganache cake and homemade toasted marshmallow topped with graham cracker and sea salt. The truffle-like consistently of the cake makes for the perfect sharing opportunity for two or more people.
Though it's only been open for a couple of weeks, Row House is already serving dinner, lunch and brunch. Venture to Under Bar for late night carousing and dancing.
Welcome to the neighborhood yet again.
Merry Christmas, happy eating and thanks for reading!
Kysha Harris is a food writer, culinary producer, consultant and owner of SCHOP!, a personalized food service offering weekly and in-home entertaining packages. Questions? Comments? Requests? Feedback? Invitations? Email her at kysha@iSCHOP.com, follow her on Twitter and Instagram @SCHOPgirl and on Facebook www.facebook.com/SCHOPnyc. For even more recipes, tips and food musings, subscribe to her blog at www.talkingSCHOP.wordpress.com.