'Big Band Holidays' joy at JALC
Herb Boyd | 12/31/2015, 12:33 p.m.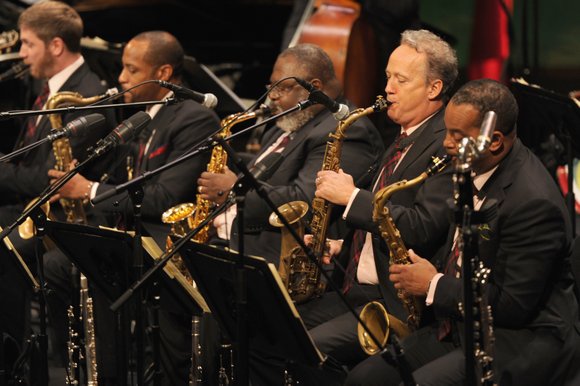 Christmas trees along the streets of Manhattan are a sure sign that the holiday season is underway, and that time of year was underscored last weekend at Jazz at Lincoln Center when the orchestra struck up a medley of familiar songs.
Saturday evening was the third and final day of several performances that began Thursday evening with singer Bette Midler hosting the re-opening of the Mica and Ahmet Ertegun Atrium.
After this star-studded, red carpet ceremony, the rest of the weekend belonged to The Jazz at Lincoln Center Orchestra with Wynton Marsalis, and each evening at the Rose Theater they chose from a bevy of Christmas evergreens to brighten and cheer what has been a rather relentless time of sorrow and setbacks.
The list of songs at the band's disposal included everything from "Blue Christmas" to "Winter Wonderland," and the audience Saturday evening got to hear these two staples and several other memorable tunes.
When his trumpet wasn't in play, Wynton Marsalis, the JALC's musical director, was the show's moderator, introducing the songs and providing the background material, soloists and other tidbits of information. The band opened with an Ernie Wilkins' arrangement of "Jingle Bells," and Marsalis led the way, giving the traditional fare a bluesy New Orleans staccato during his solo.
Vocalist Denzal Sinclaire was summoned for "Caroling, Caroling," arranged by trumpeter Marcus Printup. The timbre of his voice melded nicely with Ted Nash's alto saxophone. There was a sudden moment of pause during the performance, but Sinclaire masterfully reclaimed the tune's momentum with a scat that was again indistinguishable from Nash's horn.
"We Three Kings" gave Sinclaire an opportunity to display the full range of his voice, and his low notes were later echoed by Joe Temperley's baritone saxophone, particularly when contrasted with Nash's piccolo. The two musicians combined this sound on Audrey Shakir's version of "Winter Wonderland." And like Sinclaire she has a fine facility with scat, riding gleefully on Nash's piccolo and Sherman Irby's flute obbligatos. It would have been a poignant moment to have heard her in unison with her son, saxophonist Walter Blanding, who backed her from his chair with the other members of the band.
Sinclaire and Shakir paired their voices on "Blue Christmas," which, as Marsalis reminded, was popularized by Elvis Presley. Both singers gave the word "blue" an extended intonation, making it even bluer.
The appearance of Aretha Franklin on the opening concert was quite a surprise, and last Thursday Marsalis introduced tenor saxophonist Melissa Aldana, a 25-year-old native of Chile, who eased cautiously into "Santa Claus Is Coming to Town" before unleashing a bravura of style and technique. The rhythm section of drummer Ali Jackson, bassist Carlos Henriquez and pianist Dan Nimmer provided her all the basic flow she needed to tap into this old standard.
As noted jazz writer Ron Scott observed in his program notes, delightful things happen during the "Big Band Holidays," and this year added to what has been season after season of joy and well wishes.