Firefighters ratify new deal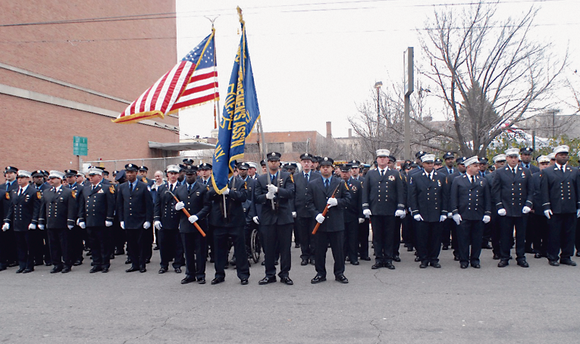 It was a long road for the Uniformed Firefighters Association, but they finally ratified a new deal.
Members of the union ratified their 2010-2017 collective bargaining agreement with Mayor Bill de Blasio's administration in a 3,131 to 2,955 vote. The UFA's new contract permanently increases the number of five-firefighter engine companies in the city by 20 and permanently guarantees five-firefighter staffing levels on all ladder companies within the Fire Department of New York. According to the agreement, the staffing levels are mandated to remain in place even after the contract ends. The American Arbitration Association oversaw the voting process.
"This agreement permanently sets in stone that every FDNY ladder company must have five firefighters for the safety of firefighters and the citizens we are sworn to protect," said UFA President Steve Cassidy in a statement. "It also restores a critical fifth firefighter in 20-engine companies across the city and also guarantees those minimum staffing levels forever. While firefighters are not satisfied with the salary increases, contracts with multiple other uniformed unions had already established a wage ceiling."
In the new CBA, wages are retroactive to Aug. 1, 2010, with the contract ending July 31, 2017. This gives firefighters an 11.51 percent compounded increase.
The agreement also mentioned a promise from the de Blasio administration via a side letter in which City Hall agrees to support joint legislation to restore disability protections to the more than 2,000 firefighters hired after July 1, 2009 (and all future hires).
In July, the UFA announced a lawsuit against New York City Council Speaker Melissa Mark-Viverito. They accused her and her office of obstructing debate and open government and fostering a lack of transparency in the City Council. At the time, the UFA wanted a public hearing on the low disability benefits ($27 a day protection) for new hires that occurred as a result of the 2009 changes to the disability pension law.
The UFA expects to have the new legislation passed by June 2016.
Back in August, de Blasio announced a tentative contract agreement with the UFA, which marked, at the time, the 11th uniformed union to reach a contract agreement with the city and put 83 percent of the workforce under contract agreement.
"These staffing protections are an important component of safety for firefighters and an added value that no other union achieved in this round of negotiations," stated Cassidy.