Happenings about town
Ron Scott | 12/31/2015, 12:47 p.m.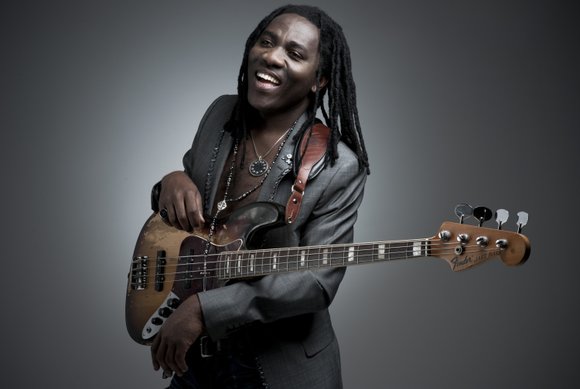 The bassist Richard Bona, whose music is tinged with world beats and jazz, will bring in the new year at his co-owned Club Bonafide (212 E. 52nd St.) for two sets at 7 p.m. and 10 p.m. Following Bona Group's later set, the percussionist and vocalist Davi Vieira and Bondafide Brazilian Band will perform.
Vieira will blend his traditional music of Brazil with other rhythmic forms that swing in and out of the jazz realm. The "Main Event" at 10 p.m. will include a champagne toast and hors d'oeuvres. For reservations, call 646-918-6189.
Zinc Bar (82 W. Third St.), known primarily for introducing new artists and music off the shores of jazz, will celebrate New Year's Eve with a "Cuban Extravaganza" featuring Roman Diaz and Midnight Rumba. Special guests include vocalists Jennifer Hernandez and Mauricio Herrera and the drummer Emilio Valdes for two sets at 11 p.m. and 1 a.m. The first set is $40 for tables or $20 at the bar. The second set is $20 general admission.
Afro-Cuban master drummer Roman Diaz and his 12-piece percussion, vocal and dance ensemble will bring the magic of the Afro-Caribbean experience. The movements of rumba were created out of the celebratory drumming, dance and call-and-response singing that came to the Caribbean from West Africa. These rituals came out of the Yoruba, Congo and Abakua cultures, and they are living repositories that were handed down from generation to generation in Cuba and beyond.
A leader in the Abakua community of Cuba, Diaz acquired his reputation as a member of the renowned folkloric ensemble Yoruba Andabo. The rumba he brings to Zinc Bar isn't the rehearsed, choreographed presentations of official touring groups. His weekly "Midnight Rumba," now in its third year of a residency at Zinc Bar, is the spontaneous rumba danced in the inner courtyards and outdoor pavilions of Cuba. Often, a number of conga players gather with a singer or vocal leader singing and responding in Spanish to hypnotic drum beats that inspire the crowd to dance moving their lumber legs and twirling around. There are even some steps similar to salsa moves in the mix. The music is a tradition that continues from "ring house music" Africa to slavery.
To watch this music and dancing, it feels like a communion ritual performance, a live prayer being acted out in dance. It is the soul of Afro-Cuban music, the foundation that brought Dizzy Gillespie together with the Cuban musician Chano Pozo and Mario Bauza. For more information, visit www.zincbar.com.
While New York weather has been surprisingly warm, it is a coincidence that the promoters Emmitt Causey and Bob Tate named their live jazz presentations "Tuesday Caliente" ("Hot Tuesdays"). The weekly that ranges from jazz to Brazilian and R&B takes place at Harlem's Lenox Saphire Patisserie (341 Lenox Ave.).
The music swings from 7 p.m. to 11 p.m. with a happy hour from 5 p.m. to 8 p.m. The band JAAMBO features the percussionist Don Eaton, keyboardist Ronnie Roc, bassist Richie Robles, on steel pan Marcus Steele and trumpeter Max Gollehon with special guest performers each Tuesday. There is no cover charge. For more information, call 917-402-2644.
All the best in the new year. The soul of jazz is derived from rhythms of the heart and improvisation keeps life interesting.