On the Paris couture runways …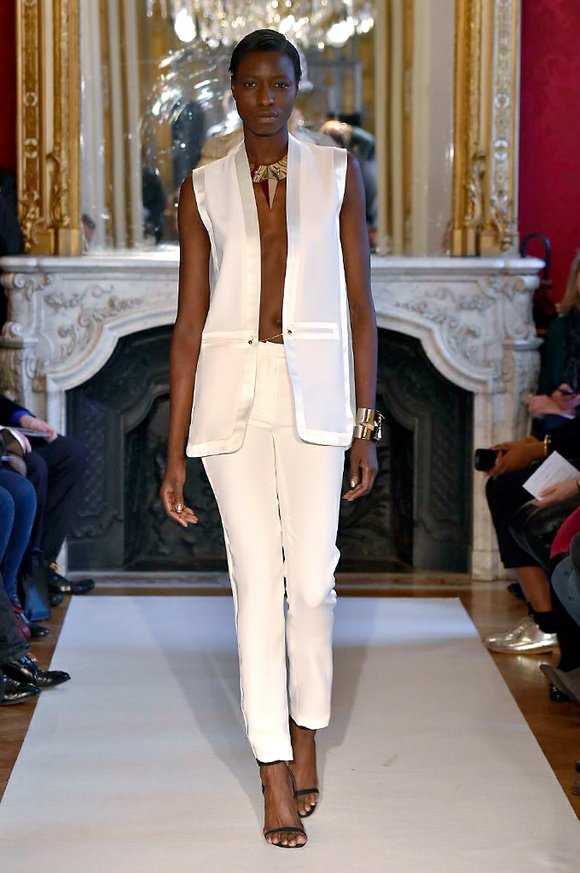 Fashion & Beauty Editor
The Paris couture shows are underway. Jan. 28, Antonio Ortega's showed his spring-summer 2015 collection at Garage Lubeck in Paris. His inspiration was Leonardo da Vinci's "Last Supper" painting and urban graffiti exalting female heroines. The collection comes to life with his contrasting style touches that reveal a sharp contrast between refined historical paintings and contemporary urban looks. On Ortega's runway, fashions are dynamic, delicately designed and opulent.
With an assemblage of printed fabrics, there are noticeable pieces that accentuate the body. His emphasis on clean cuts never interferes with forms in regards to shape and lengths. Many styles reveal the leg, a curve, a line—and there's a sensual bareness that offers a captivating appeal. Ortega has a wonderful, signature styling technique. His fabrics seem to simply wrap around the body. Soft ribbon underlines the structure of his garments so they can curl around the body with ease. There are glittery pieces, graphic patterns and prints in the line. His favorite fabrics include cotton, Lurex, silky effects and high-tech materials that are often waterproof, stiffened or softened.
He showed a variety of lengths, so all lengths work for this season. Your clothes must look good on you, and fit your figure and lifestyle. The focus was on necklines and waistlines, depending on the line of the body. Fine details encompassed supple shapes, colors, handmade croquet, embroideries, lace, stitching, eyelets and fine chains.
For her second Paris couture presentation Jan. 29, Alexandre Delima's spring-summer 2015 theme was "Fresh." With a kaleidoscope of shapes, her models glowed on the runway in her 21st century looks. To her, the dress codes are freedom and charm. Casual elegance and sophistication are also words describing her collection, which offers long and short dresses, dinner suits, trouser suits and a pair of Bermuda shorts.
Her looks are inspired by baseball players and the hip-hop world of America, the country where this designer grew up. She works with expert skills, geometrically styled embroidery, cuts and materials that expose the sensual shape of the feminine woman. Her colors range from soft to vivid shades—for example, an ivory set off by deep black.
In the collection, a black mini-dress receives applause. It's opaque and transparent, and embroidered with stones and glass fringes. Her silhouettes are sharp—similar to pencil-drawn illustrations. She uses fabrics such as crepe drape, gazar, organza, silk and goatskin suede. Important details such as contrasting pleats were at play.
To top it all, Delima's models strutted down the runway in wide-brimmed hats inspired by baseball caps, and accessorized, ultra-feminine dresses. Her jeweled handbags, rich-looking rings and new-look tie necklaces enhanced her looks.