AmNews talks with 'Beyond the Lights' creator Gina Prince-Bythewood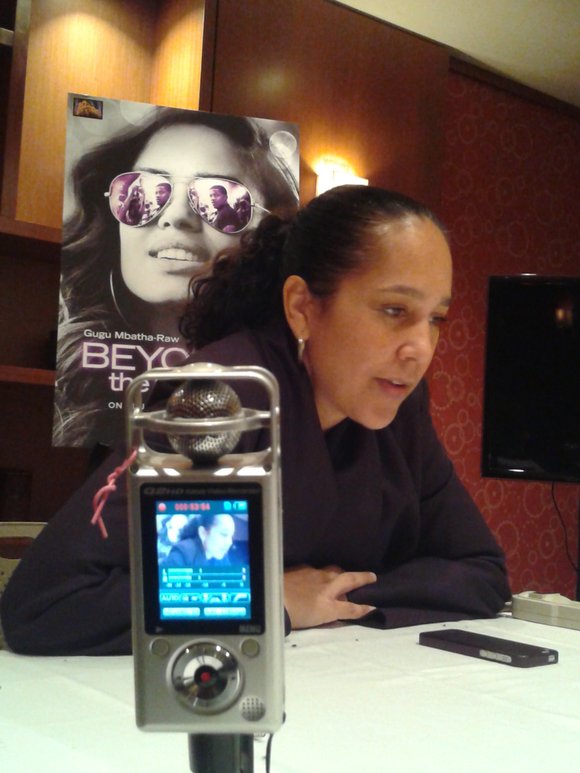 I'm suffering from an almost crippling pang of writer's block as I attempt to transcribe my interview with screenwriter-director Gina Prince-Bythewood because, in a word, this storyteller is "dope." To add a few more descriptive attempts into the mix, she is straight up "good people"! Bam. I'm unblocked.
Dope is a description that she uses often when something interesting crosses her path, so it's stuck in my head in a loop and makes my mind fixate on the lost art of listening because Prince-Bythewood's ability to "listen" might be a key to what makes her storytelling so solid.
Hearing is great, but listening is needed in crafting interesting stories, and Prince-Bythewood devoted herself to delivering 55 drafts of the screenplay for "Beyond the Lights," and if you know anything about screenplay structure, her work is sublime. I'm shaking my head as I type this because good writing means rewriting, which is usually coupled with passion-fueled skill.
Jan. 15, when the nominees for the 87th Academy Awards were announced, I was hoping to hear her name under "Best Original Screenplay," but what I heard was that the song "Grateful" got the recognition instead. I quickly shook off my disappointed and absorbed the positive sign in this acknowledgment.
"Grateful," which is written by Diane Warren, will be performed at the 87th Oscars, Sunday, Feb. 22, by songwriter, songwriter and actress Rita Ora, who dominated the U.K. charts with her first album, the certified platinum "Ora," in 2012. It's interesting to note that this marks Warren's seventh Oscar nomination in the category.
The four other songs nominated this year are "Everything Is Awesome" from "The Lego Movie," "Glory" from "Selma," "I'm Not Gonna Miss You" from "Glen Campbell: I'll Be Me" and "Lost Stars" from "Begin Again."
The competition for "Best Song" is challenging, but it's always good to be "in the conversation," as the gifted Prince-Bythewood shared on her feelings around the 2015 Oscar nominations. Here is part one of my interview with storyteller, screenwriter, director and "#dopePerson#1" Gina Prince-Bythewood.
AmNews: By now, you know that I am a fan. Please share how the song "Grateful" slipped into "Beyond the Lights."
Prince-Bythewood: When you make a music film, you want a song nominated. After screening the film, Diane (Warren) was inspired and played me the song, over the phone, on her little keyboard and I got goose bumps, and later when she played it for Gugu (Mbatha-Raw), we all knew.
So this Oscar-nominated song was made just for "Beyond the Lights," inspired by the character?
Correct. Inspired by the character's journey. … It spoke to the film and (again) to the character and the journey. The crazy thing is that Diane, Reggie and Stephanie (Allain) and I all believed in the song. As you know, there were no screeners sent and there wasn't any Oscar promotion for this film. We had two screenings for Academy members and the reaction was bittersweet because they loved the movie and asked the question, 'Why didn't you send screeners?' and this is where a lot of our journalist champions came out and began discovering the film.
When your song was nominated, I was on the treadmill and screamed when I heard the nod! Where were you?
I was at home and I woke up at 5:30, and it was an amazing moment when we got the Oscar nod.
Big question: What are you wearing to 87th Oscars Sunday, Feb. 22?
(laughing) I don't know. This will be my first time that we, my husband and producer (Reggie Bythewood), will be attending. I think we might be easy to spot in the audience.
I think you should wear a "man's tuxedo" because it's comfortable and they have deep pockets!
(laughing) You know what, that would be dope!