Forum outlines challenges for fighting HIV and AIDS
ALVIN PONDER | 2/26/2015, 2:05 p.m.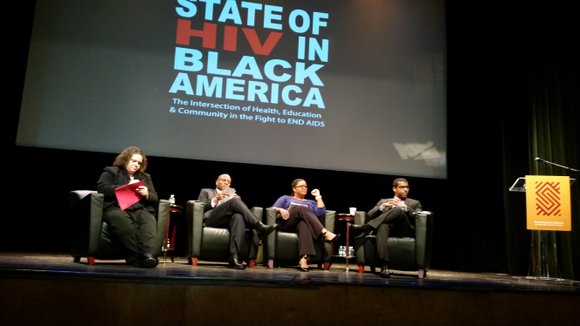 Feb. 7, Douglas Brooks, director of the Office of National AIDS Policy, participated in a forum on the "State of HIV in Black America," held at Harlem's Schomburg Center.
Brooks forcefully asserted that African-American communities "need to be focused and strategic and thoughtful as we can be about what we are going to do to end this virus."
In her remarks, National Black Leadership Commission on AIDS President and CEO C. Virginia Fields, who convened the forum, highlighted startling statistics to draw attention to the fact that HIV continues to disproportionately affect African-Americans.
African-Americans get HIV more than eight times greater than the white population, she said, citing the Centers for Disease Control and Prevention. "One in 16 African-American men and one in 32 African-American women will be diagnosed with HIV during their lifetime.
"Although only 13 percent of the U.S. population, African-Americans account for 44 percent of all new HIV infections in adults and adolescents living in the United States." She added that African-American gay and bisexual men—particularly young men—remain the population most heavily affected by HIV in the U.S.
Rep. Charlie Rangel, of New York's 13th Congressional District, also spoke at the forum to present his views on HIV and AIDS prevention. In his address, he stressed personal responsibility.
"It's not worth the risk," he said regarding one's chances of getting HIV. "But the fact that they don't care about themselves doesn't mean that we don't care to have to care for them."
Brooks, President Barack Obama's primary advisor on domestic HIV and AIDS policy, said his priorities for the Office of National AIDS Policy are focused on achieving the goals of the National HIV/AIDS Strategy, released in 2010, which include reducing HIV-related health disparities among gay and bisexual men, with a focus on young men of color.
"At the Health Resources and Services Administration, we have an over $2 billion Ryan White HIV/AIDS Program portfolio, which is caring for people living with HIV, including about $900 million for the AIDS Drugs Assistance Program that keeps people on their medications," said Brooks.
The Ryan White HIV/AIDS Program is the largest federal program focused exclusively on HIV/AIDS care. Total U.S. government spending on HIV/AIDS for fiscal year 2015 is an estimated $30 billion, according to a Kaiser Family Foundation study. Said Brooks, "Of that, the domestic HIV/AIDS portfolio is about $24 billion."
Beyond the U.S., global spending on HIV/AIDS is about $6 billion.
"The Affordable Care Act is a huge portfolio for people living with HIV and AIDS, in that for the first time, it also eliminates barriers because of pre-existing conditions," said Brooks.
One of the major steps to increase health insurance coverage under the Affordable Care Act, better known as Obamacare, is an expansion of Medicaid. Medicaid covers 59 percent of African-Americans living with HIV/AIDS, according to the HIV Cost and Services Utilization Study.
However, the states that have not expanded Medicaid, particularly in the American South, accounted for about half of HIV diagnoses.
Another panelist, Johannes Morne, director of planning and community affairs at the New York State Department of Health AIDS Institute, reported on New York Gov. Andrew Cuomo's bold plan to decrease the number of newly infected people with HIV each year from almost 4,000 people in 2015 to 750 people by 2020. New York leads the nation in the number of new HIV cases.