Talking SCHOP! #HarlemOnTheRise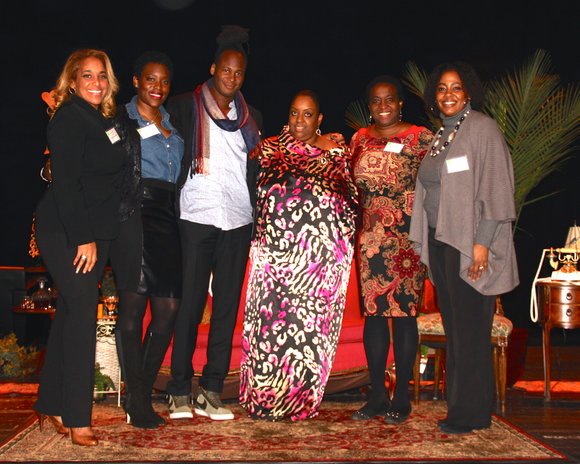 The second round of panels celebrated "Black Men in Hospitality & Culinary" with chefs Marcus Samuelsson (Red Rooster), J.J. Johnson (Cecil/Minton's) and Raymond Mohan (Lolo's), among others. In the other panel, HP2P looked at "Maximizing Your Cultural & Culinary 'Brandwidth,'" with notable figures in publishing, television, publicity and entrepreneurship. The nugget here came from entertainment executive Phil Robinson while discussing creating an audience for your brand. He said the key to branding success is having "a story to sell," and not just tell.
The closing panel of the Harlem Hospitality and Culinary Conference brought together some of Harlem's pioneers. Raphael Benavides (Ricardo Steakhouse, @RicardosNYC) reflected on the importance of trusting yourself and being able to accept change when growing a new business. Tren'ness Woods-Black (third generation, Sylvia's, @SylviasSoulFood) talked about staying true to the brand by way of a quote from her grandmother, who said, "I am Harlem. They just call me Sylvia." Cousin Melba Wilson (Melba's, @MelbasHarlem) followed up with another Sylvia's quote when referring to nurturing passion and success, saying to always "rock your baby!" Wilson closed by declaring her legacy "to eradicate fear and to aspire and inspire."
Thank you to HP2P and to all who participated. Great job this year! Looking forward to the fourth, fifth and sixth annual event and beyond.
Happy eating and thanks for reading!
Kysha Harris is a food writer, culinary producer, consultant and owner of SCHOP!, a personalized food service offering weekly and in-home entertaining packages. Questions? Comments? Requests? Feedback? Invitations? Email her at kysha@iSCHOP.com, follow her on Twitter and Instagram @SCHOPgirl or on Facebook www.facebook.com/SCHOPnyc. For even more recipes, tips and food musings, subscribe to her blog at www.talkingSCHOP.wordpress.com.