Year in Review 2014: Part II
1/2/2015, 4:58 p.m.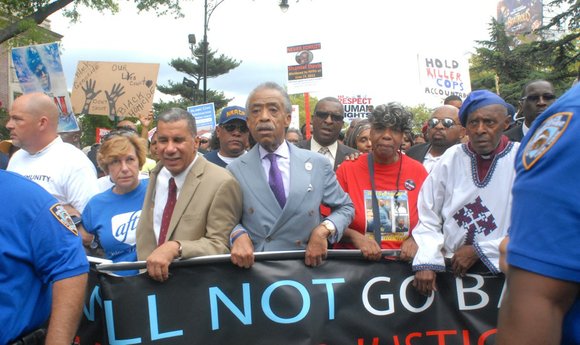 JULY
Ras Baraka is inaugurated as mayor of Newark, N.J. The city sees its first outbreak of shootings for the summer. Twenty people are shot, with four losing their lives. The youngest victims are two boys ages 10 and 12. In one day, 12 people were shot in five hours. The city's Rent Guidelines Board votes in favor of landlords increasing rent by 1 percent for one-year leases and 2.75 percent for two-year leases.
Filmmaker Spike Lee throws a block party in Brooklyn celebrating the 25th anniversary of his movie "Do the Right Thing." A charter school is opened in Central Harlem named in honor of the late Dr. Muriel Petioni. Community members and elected officials come together for a memorial service for the late J.D. Livingston. Serving as a staffer for the Rev. Al Sharpton, Livingston was also a producer and best friend to radio personality Imhotep Gary Byrd.
Gov. Andrew Cuomo unveils a plan to combat HIV/AIDS in New York. He hopes to bring cases below epidemic level in the state by 2020. Two-year-old double amputee Kayden Kinckle becomes a YouTube sensation when video of him learning to walk with prosthetic legs goes viral.
A questionable poll by Quinnipiac University ranks President Barack Obama as the worst U.S. president since World War II. The poll also states that voters believe Mitt Romney would have been a better choice as the head of state. Critics of the poll say it was conducted unfairly.
Reports indicate that 46,000 notices were given to water customers in Detroit who had not paid their water bill. Of those, 4,500 lose their water. Several civil rights organizations, including the National Action Network, call on the cash strapped city to allow people to keep their water running.
An Ebola outbreak in West Africa makes headlines worldwide and kills more than 600 people. The first American death is announced when health worker Patrick Sawyer dies in a Nigerian hospital after contracting the virus in Liberia. The news causes worries that the virus could spread to the U.S.
Former New Orleans Mayor Ray Nagin is sentenced to 10 years in prison for bribery, money laundering and several other charges. The United Negro College Fund is the subject of criticism when it accepts a $25 million donation from the Koch brothers. The American Federation of State County and Municipal Employees cuts ties with UNCF. Leader of Women in the Nation of Islam Ameenah Rasul dies at age 90.
Black, unarmed 43-year-old Eric Garner is killed by police on Staten Island. Officer Daniel Pantaleo used an alleged chokehold on Garner, which is banned under NYPD guidelines, after Garner breaks up a fight. Rallies and protests are held across the city in response to Garner's death The ordeal is recorded on cellphone video by bystander Ramsey Orta and goes viral, outraging the world and putting a spotlight on racially motivated police brutality.
The city approves the "poor door" at a tony apartment building on the Upper West Side. The mixed use residential building has a door in the rear for low-income residents. Elected officials swiftly plan legislations to prevent other buildings from having "poor doors."