Who's in charge?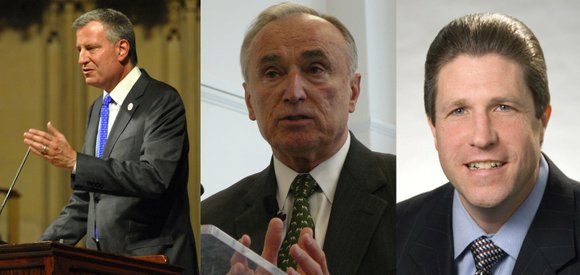 In the same press conference, a reporter asked, "With regards to the slowdown, and the drop-off of arrests and summonses, are you satisfied it's not the work action by the unions, in that some of these slowdowns began after December 20? [inaudible] the Garner verdict was December 3. The slowdown didn't begin after that."
Police Commissioner Bill Bratton responded by saying, that the department is taking a look at the numbers and will have a better idea of the situation in a few days,"and if in fact we feel—myself and the leadership team—that that's what we're dealing with, we'll call it that, and we'll deal with it accordingly."
Bratton held a talk with five union heads Wednesday, Jan. 7, in an effort to find a resolution. Even though he called the defiant behavior "inappropriate," he has not spoken, publicly at least, of disciplining any of the officers who participated in defying his direct order not to turn their backs on the mayor.
"The strategies and policies of policing dealing with communities of color have historically been different from those policies in dealing with other ethnic communities throughout the United States," noted Damon K. Jones, New York representative of 
Blacks in Law Enforcement of America. "Clearly, the entire system of policing must be torn down and rebuilt with policies that are built on true tenets of justice."
At this point, it is unclear who the rank and file are taking orders from. "It is obvious that Mayor de Blasio has lost control, and the NYPD officers are listening to Lynch, not Commissioner Bill Bratton," said Barron.
Many people say the system is broken, not just in New York but nationwide. "A plan must be created by our federal government for 'National Standards of Police Policing Policies' to address this draconian, antiquated and dysfunctional race-based system of policing in order for the community's to regain any trust in this institution that we call law enforcement," said Jones.
Now we are just waiting to see what will come next as the mayor continues to ask for healing and "to find a way forward together—that I'm convinced of."