Pioneer librarian and archivist Dorothy Porter Wesley
Herb Boyd | 1/9/2015, 2:36 p.m.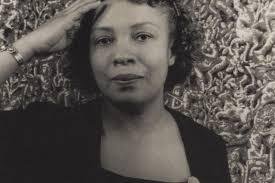 Whenever African-American librarians are mentioned, Jean Blackwell Hutson of the Schomburg; Clara Jones of Detroit, the first Black president of the American Library Association; and Dorothy Porter Wesley of the Moorland-Spingarn Research Center at Howard University usually head the list. Each person was an extraordinary bibliophile and undeterred in their pursuit of the most obscure batch of data.
In my years as a writer and teacher, I was fortunate to meet each of them, at least to bother them about a matter or to request their permission to use a particular book or article. I only saw Wesley a couple times, and by then she was nearing retirement in 1973, after a long tenure at the Moorland-Spingarn Center.
The center was her nest, so to speak, and it was largely her tireless devotion that built the center, twig by twig, acquiring a variety of documents, photographs, and scraps of memorabilia about Black history wherever it could be found and was available.
Born Dorothy Burnett, May 25, 1905 in Warrenton, Va., she was raised in Montclair, N.J., in a doctor's family of four children. She received her B.A. from Howard University in 1928. Three years later, she earned a B.S. degree and in 1934 her M.S. degree in library science from Columbia University, the first Black woman to earn such a distinction.
Her nose wasn't always buried in some book. She was a very active young girl who loved being a member of the Campfire Girls, pulling on roller or ice skates, swimming and tennis.
She may have derived some of her outgoing spirit and moxie from her parents. Her father was a community activist who ran for several offices, and her mother taught Sunday school at their church, and often after Bible study, she taught Wesley how to play tennis. Wesley, when asked about growing up, told one interviewer that "my father thought my mother should discipline us. And my mother thought my father should discipline us. Sometimes my mother would punish me by sending me to bed. This did not bother me because I always hid books and a bottle of olives under my mattress."
While completing her graduate work, she worked at the Moorland-Spingarn Research Center, named after Jesse Moorland, who, with Carter Woodson, was the co-founder of the Association for the Study of Negro Life and History in 1915. Moorland, like Arthur Schomburg, was a devout collector of books, many of which he donated to Howard as the foundation of the center. He was joined in this enterprise by Arthur Spingarn, the brother of Joel Spingarn, a cornerstone of the NAACP's early years. An avid book collector, like Moorland, Arthur Spingarn donated a good portion of his collection to the library. And it was Wesley's assiduous zeal that secured Spingarn's impressive collection.
When she began working at the center, she discovered stacks of dusty books from Moorland that hadn't been opened or catalogued. "Nothing had been done in that collection; nothing had been brought together," she said. That's when she, affectionately known as the "shopping bag lady," dove into the boxes and began making the collection the centerpiece of the center.