Pioneer librarian and archivist Dorothy Porter Wesley
Herb Boyd | 1/9/2015, 2:36 p.m.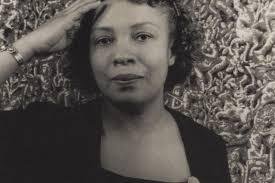 It was from this wellspring that Wesley began acquiring additional books that would make the center among the most resourceful repositories and archives on Black history in the world. Under her leadership, the center's holdings grew from an initial 3,000 to 180,000 items by 1973, including letters, manuscripts, pamphlets, books, microfilms and microfiche, as well as oral histories. Along with her responsibilities of running the library, she found time to write several books.
She published "Early Negro Writings, 1760-1837" in 1971. It was republished in 1995 by Black Classic Press under the name Dorothy Porter. Her first husband was James Amos Porter, who chaired Howard's fine arts department. He died in 1970. Nine years later, she married Dr. Charles H. Wesley, the eminent historian, a dean and professor at Howard. He died in 1987.
Among her other books are "North American Negro Poets: A Bibliographical Checklist" (1945); "Negro Protest Pamphlets" (1969); "The Negro in the United States, A Selected Bibliography" (1970); and "Afro-Braziliana: A Working Bibliography" (1978), one of the most comprehensive listings on the subject.
In 1971, she was the recipient of an honorary doctorate of letters from Susquehanna University. She also received a similar honor in humane letters from Syracuse University in 1989. It was during this period that she was appointed visiting scholar to the W.E.B. Du Bois Institute at Harvard University. The University of Utah presented her with the Olaudah Equiano Award of Excellence for Pioneering Achievements in African-American Culture in 1989. This same year, the center instituted an annual lecture series in her name.
Even after retirement, her research continued, and her scholarship and concern for compiling the precious items of Black culture and history were consistent with her dedication to gathering the works of "our painters, musicians, athletes … our background, what they've done all goes to make up our history," she often professed.
For someone who attained such a pinnacle of scholarship, Wesley was a rather late bloomer because she had no classes in African-American history as a student in high school or college. Janet Sims-Woods, in her study of Wesley's life, cited the work of Richard Newman in his book on Afro-American bibliographies and bibliographers, in which Wesley wrote about her home life and the presence of books: "The poetry of Paul Laurence Dunbar was among the books on the bookshelf. His poetry was very familiar as my mother frequently recited his poetry at the Methodist church we attended … Kelly Miller, a famous sociologist whom my father had known while he was a student at Howard University, was on occasion a guest in our home, where some of his books and pamphlets were to be found. I also remember being raised up onto my father's shoulders to see Booker T. Washington on one of his speaking tours in the area. I believe most Black families such as ours possessed his 'Up From Slavery' … My personal copy of 'Iola Leroy,' the first novel by a Black woman, Francis Ellen Watkins Harper, was among my father's library."
Wesley's life was surrounded by books, and that was the case when she died in December 1995 at 91 at her daughter's home in Fort Lauderdale.