Fur attitudes in color
RENEE MINUS WHITE | 1/15/2015, 1:33 p.m.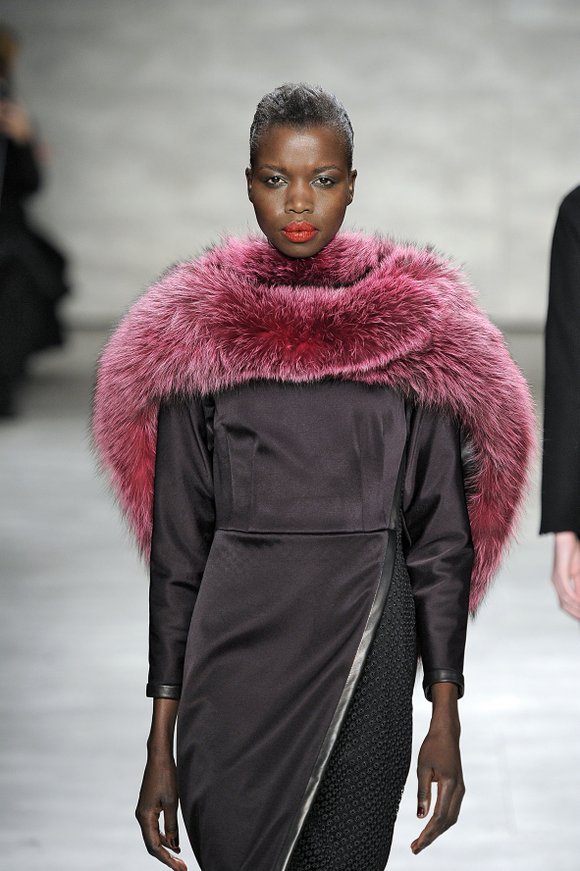 Fashion & Beauty Editor
In this winter's arctic chills, furs hit the street big time. The most important trends are color, exaggerated volumes, proportion, bold trims, dramatic prints and patterns and capes. Furs are also a mainstay in terms of ready-to-wear. More than ever, you will see more fur pullovers, skirts, jackets and dresses. Capes are as intriguing as they were in the past. The look is glamorous!
Fur silhouettes come from the 1920s, but with newer style touches. Big coats (such as raccoon, fox or shearling furs) are back with big shoulders and in longer lengths. Often, these shapes are worn with belts. Many women are wearing their fur vests over their cloth coats as an accessory. Furs are long, short, shaped with nipped waist and flare bottoms, straight cuts. Wear furs in prints, patterns or solids. And remember, a fur adds glamour to your wardrobe. The thinking is that a real fur keeps you warm, so you might as well look fashionable.
The colors of fur are like crayons. Primary colors such as red, blue, green and yellow are playful. Fur colors are vibrant and vast. Fashionable patterns, including stripes and checks, and abstract designs hit the runways. Jewel tones are news. The fur hats, scarves, gloves, shoes and boots add to the excitement of fur. The color of a fur often overcomes the feeling of being cold in winter. Black furs are still in. White furs are elegant and sophisticated. In a white fur, you only need a touch, like buttons, collars, cuffs, trimming on the hem, a panel and an accessory. The fur hats, boas, shawls, scarves, belts, gloves, shoes and boots all add to the new trends in fur.
The most popular fur shape is the cape. Known for its drama, mystery and captivating cuts, the fur cape is versatile and fits all sizes. On the runways, it's shown dressy and casual, worn with evening gowns, daytime suits, sporty jeans and leggings. Women are wearing fur capes everywhere and in every way, day or evening. In this winter's cold, there's nothing like a fur. Of course, the look is layered. If you choose to wear fur, the trendy attitude is to have fun wearing it.