DVF designs pretty spring dresses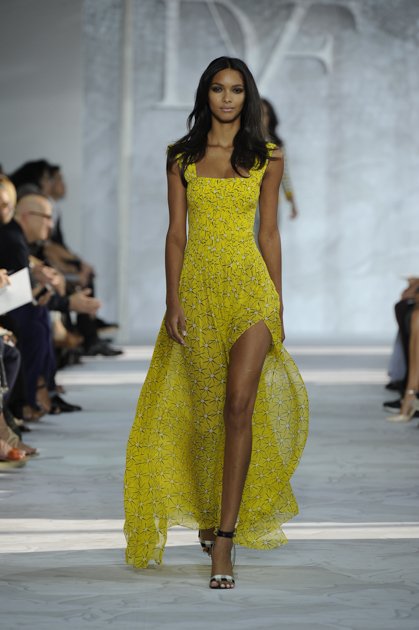 By RENEE MINUS WHITE
Fashion & Beauty Editor
The dress is still the best in Diane Von Furstenburg's spring 2015 collection. Her dresses today are somewhat different from the first wrap signature dress she created in 1972, which changed women's wardrobes around the world. But her message is the same when it comes to the look being feminine, shapely and sexy.
Her story is remarkable, including how she came to New York with a suitcase full of jersey dresses and a dream of being the best designer. Two years later, her wrap dress came to symbolize power and independence for an entire generation of working women. Back then, because folks had just come out of the revolution of the 1960s, a change in how women dressed was important. It was all about freedom of expression in beauty and fashion. Von Furstenburg's timing couldn't have been better. For spring 2015, she showed a collection of pretty dresses. There are lots of fine fabrics and dressmaker details. Her prints and crocheted pieces just spiced up the runway at Mercedes-Benz Fashion Week. Bold, bright colors and styles in various lengths will take your breath away. When you think of how she started, and how hard she worked, it makes you think that you can be successful if you try.
By 1976, she sold over a million pieces of her wrap dress. Thinking back, everyone wanted one and had at least one in their closet. Von Furstenburg took some time off and re-launched this magnificent dress in 1997. Her company went global. Today, her company produces four collections a year. She also creates accessories, handbags, shoes, luggage and a fragrance. Her products are sold in 70 countries, and she has been appointed as the president of the Council of Fashion Designers
Von Furstenburg also fosters emerging designers, and she is now working to help establish the Design Piracy Prohibition Act, which protects designers from counterfeit reproductions of their works. Von Furstenburg's commitment to empowering women is strong. She happily admitted, "Children are my greatest creation."