Embattled Speaker Silver asked to resign
Herb Boyd | 1/29/2015, 9:34 a.m.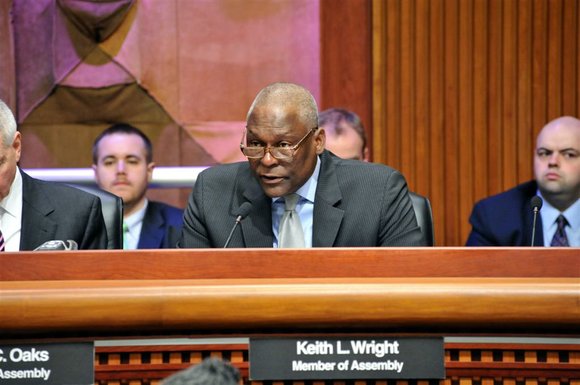 Special to the AmNews
Assembly Speaker Sheldon Silver, charged with graft and corruption, decided Monday to take a step back. But that is apparently not a big enough step for Harlem Assemblyman Keith Wright, leader of the Manhattan Democratic Party.
"This is not the time to step back or step aside," he said in a statement. "This is not the time for committees of five to serve as the alternative speaker or the delegate of the speaker. This is a time for the speaker to resign his post—it is the only appropriate thing to do."
In a phone interview Tuesday, Wright elaborated on his position after several of his colleagues in the Democratic conference followed his lead. "We have just finished discussing possible rule changes to get him removed if he refuses to resign," he said. The speaker's idea of a committee to temporarily replace him will not work, Wright added. An interim leader from the minority bloc in the Assembly would be Wright's preference, though that bloc is not without a bit of tension.
"The tension may be there," said H. Carl McCall, chairman of the SUNY Board of Trustees and a veteran of political wars. "But this is a unique opportunity for them to stay together and secure this powerful position."
Even so, it's hard to believe that Gov. Andrew Cuomo and Mayor Bill de Blasio will passively ignore the give-and-take that is sure to occur in the 105-member Democratic Conference as they vote on who will replace Silver. (At the moment, Joseph Morrelle has been installed as the interim speaker. The vote will occur toward the middle of next month.) Both have indicated they will not get involved, and we can expect that will be so, insofar, as their direct involvement. As one person close to the developments has suggested, "They have to be wary of choosing the wrong horse and thereby jeopardize their future arrangements with the new speaker. Best they stay out of it until there's a clear indication who that person will be."
Several civic groups are calling for more transparency in the process of determining the next speaker. In an open letter to the public, heads of the Brennan Center for Justice, Citizens Union and NYPIRG stated, "Our organizations strongly believe that democracy demands openness. Backroom dealing and secrecy undermine public confidence and breed public cynicism and apathy. Public confidence in the Legislature is a cornerstone of public support for lawmaking. Public distrust of the legislative process erodes democracy. Setting a more open process and offering a public forum for candidates for speaker is important in helping to build public trust in the Assembly, an especially important public interest given the situation in which the Assembly currently finds itself."
However, there's little likelihood that this recommendation will ever see the light of day in Albany.
When the story first broke about Silver receiving kickbacks from a law firm and developers last Thursday, Wright and other members of the Assembly were hesitant to address the matter. But now there appears to be several legilators joining Wright in the call for Silver to relinquish the post he has held for more than two decades.