New designers hit New York in style
Fashion & Beauty Editor
From all over the world, fashion designers are gearing up for next month's New York shows. They will be all about fall 2015. In ready-to-wear, two young designers are noting excitement about their collections. Accessory designer Adele Dejak comes from Nigeria, and women's wear designer Dorin Negrau hails from Romania. They both offer completely different looks and approaches to fashion. New York's Fashion Week will also see Mimi Tran from the Middle East, who will be closing the show at one of the venues.
Dejak has been on fashion's fast track for the past two years. Known for her accessory designs, she was selected to design a limited edition handbag collection by Salvatore Ferragamo. She has received reviews from Vogue Italia as "Vogue Talents: Who Is on Next" and was showcased in the PURE London show. She looks forward to launching her brand in the U.S.
Dejak, based in Nairobi and educated in the U.K. and Italy, is extremely popular in Europe and Africa. Her pieces are handcrafted and made from the finest fabrics and materials. She utilizes accents such as the Ankole cow horn and recycled brass.
From Romania, international designer Negrau will present his fall 2015 collection for his second season in the tents. His women's fashions have been featured all over the world. "The theme I use while designing is that each of my creations should change the mood of the person wearing the design," said Negrau. "I believe there is a clothing language."
Before becoming a fashion designer, he studied chemistry and pharmaceutical research in college. His brand also offers a new fragrance, "Pour Femme," and a skincare line named "Clora."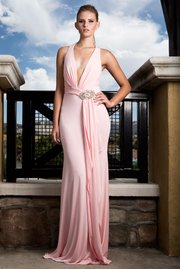 Fur designer Tran will introduce her luxurious line. She was selected as a favorite in last season's Art Hearts fashion show. Based in Kuwait, high-fashion designer Tran is thrilled to have the opportunity to show in New York. For this designer, Kuwait's Fashion Week follows. She is known for her contemporary style that enhances the lines of a woman's body. Her collection was inspired by everything from classic movies to modern technology. In her collection, there are also sexy yet beautiful cocktail dresses and evening gowns embellished with delicate details in luxurious fabrics. Her perfectly fitting, couture-like styles with lace, latticework and gold accents are stunning in black or white.