On the "A" w/Souleo: Baltimore photographer debuts exhibition inspired by Freddie Gray protests
Souleo - | 7/2/2015, midnight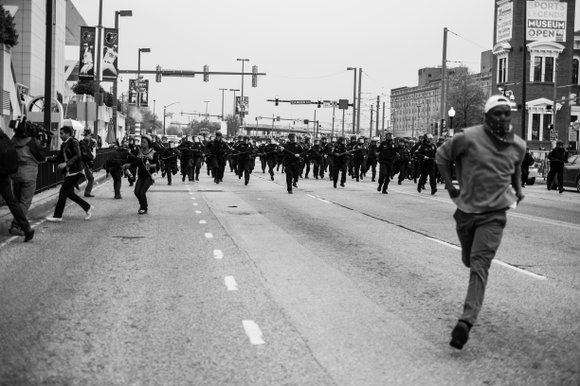 Devin Allen refuses to let the momentum for social justice subside after the city of Baltimore erupted in protests following the death of Freddie Gray. The photographer is keeping awareness alive—following his lauded TIME magazine cover capturing a protest scene—with his debut solo show titled, Devin Allen: Awakenings, In a New Light on view at the Reginald F. Lewis Museum, July 10-December 7.
"A lot of people forgot. I went from watching and marching with 2,000 protestors to only 50 or 60 this past Sunday at a rally in Freddie Gray's neighborhood," said Allen. "That's why this exhibit is important. We need that fire back because the battle hasn't stopped. These cops have not been brought to justice. There is a long gap from protests to a trial date so we have to keep it as an issue and make sure Freddie Gray is not forgotten."
The exhibition will include images of the Baltimore protests wheat pasted onto the walls with some enlarged to 20-feet wide. As an interactive component, visitors will be able to write responses to the prompt, "Where were you?" on a timeline documenting the unrest. Allen also plans to share wall space with local youth. As part of his recently launched crowdfunding campaign's mission, he will guide youth in capturing images of their neighborhoods with a select amount added to the exhibition.
This all takes place in the museum's new Lewis Now space. Located on the ground floor, Lewis Now is a free and public initiative designed to engage the Baltimore community in the intersections of art and social justice. Allen, a West Baltimore native—who only recalls attending the Lewis Museum once or twice in the past—views this as a significant step in strengthening the relationship between art institutions and underserved communities.
"There is a disconnect between museums and the community. A lot of museums don't catch the new history being made. So the Lewis Museum wants me to be part of the community and I plan to do a lot for the community through them," he said. "No one listens to children but these are our future leaders. We need to inspire them. So why not take pictures with the kids and add their work to the exhibition's timeline? One of these kids might be greater than me one day and that would be amazing if I can plant those seeds."
Emily King talks the 'Switch' in life and music
Life's transitions—both big and small—serve as the inspiration behind the title and music of singer-songwriter, Emily King's new album The Switch. And King is certainly singing from experience.
In 2006 she was signed by Clive Davis to J Records/Sony Music and released her critically acclaimed debut album, East Side Story. She was nominated for a Grammy and toured with the likes of John Legend, Alicia Keys, and Nas. Then in 2008 she was dropped from the label and has since forged ahead on her own. But for King, one of the toughest parts of that transition was dealing with the financial and housing challenges of being an independent artist.