Football immortal Charlie Sanders, 'the Ultimate Lion'
Herb Boyd | 7/9/2015, 1:35 p.m.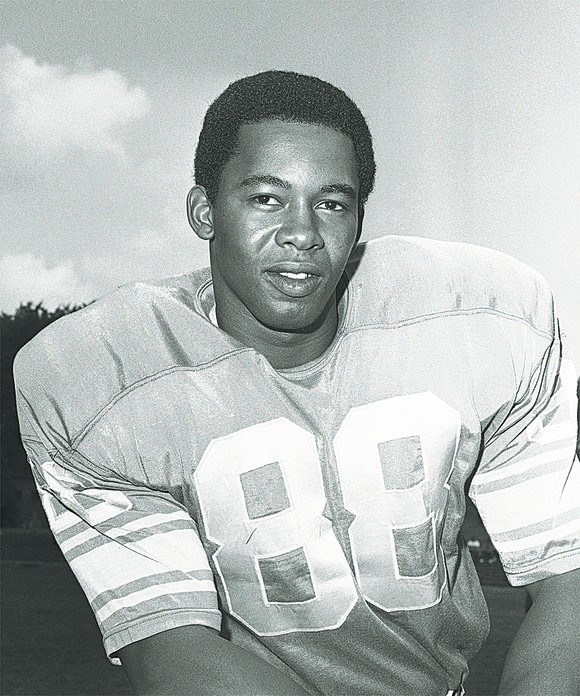 As I've said many times in this column, you don't have to dig through the distant past to find remarkable Black Americans, men and women who knew that "Black Lives Matter." Charles Alvin Sanders was one of these special people. Sanders, 68, died last Thursday of cancer in Royal Oak, Mich., near Detroit.
It was in Detroit with the National Football League Lions that Sanders' legend was made. From 1968 to 1977, he gave an entire new meaning to the tight end position on the gridiron. Rather than a big man who could block like Leon Hart or create mayhem like John Mackey, Sanders embodied all of these traits with smooth efficiency.
To be sure, he was a good blocker, opening a lane for a running back. But it was his gifted hands and speedy feet that made him a touchdown threat on each play. Standing 6-foot-4 at 225 pounds, he was difficult to cover and even more difficult to catch and tackle.
His career numbers tell part of his glory. He averaged 14.3 years per catch, scored 31 touchdowns, was selected to the Pro Bowl seven times and from 1969 to 1971 was named a first-team All-Pro by the Associated Press. Sanders amassed nearly 5,000 yards after catching 336 passes, a Lions' record until it was broken by Herman Moore, who was coached by Sanders.
After sustaining a knee injury in 1976, Sanders, 31, hung up the spikes but stayed on the sidelines for the Lions in several capacities for five decades, none more productive than his tutoring of the team's receiving corps.
Sanders was born Aug. 25, 1946, in Richlands, N.C. He was only 2 when his mother died. His father spent most of his life in the Army, thus leaving Sanders to be raised by an aunt in Greensboro, N.C. In high school, Sanders was a star on the football and basketball teams. At the University of Minnesota, he played on defense until his senior year when he switched to offense, leading the team in receptions.
He was drafted in the third round by the Lions. Almost immediately he was an impact player, earning a spot at the Pro Bowl in his rookie year.
"Just a tremendously great athlete," Hall of Fame cornerback Lem Barney, Sanders' teammate with the Lions for 10 years, told the Detroit Free Press upon learning of his friend's death. "He was always a believer that we could win. He always thought if he could get the quarterback to throw it to him, he was going to catch it. He made some acrobatic catches. I'm telling you, one-legged, one arm in the air, floating through the air almost like Superman. If you threw it to him, he was going to find a way to catch it."
Many of the catches were spectacular, and hardly a week passed during his career when one of his catches didn't make the top 10 highlights. The roar from his fans was often deafening, but Sanders would get up, brush himself off and line up for the next play.