'Money isn't justice:' says Sharpton as City settles in Eric Garner case
Herb Boyd | 7/16/2015, 10:55 a.m.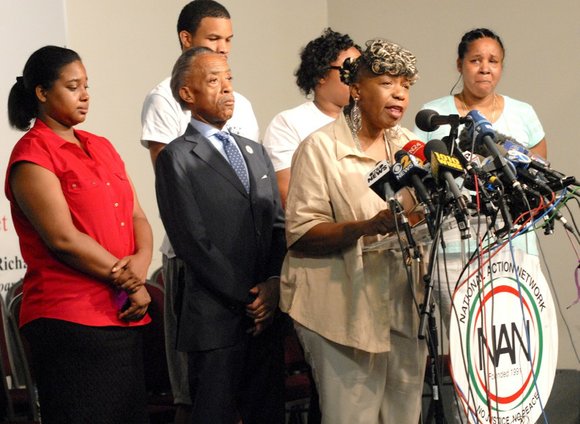 Additional reporting by NATASHA ASHBY
It is one year later. Eric Garner, locked in a chokehold by officer Daniel Pantaleo, died on video.
Thousands of protesters took over the New York City streets last summer. The "BlackLivesMatter" hashtag spurred chants and rallies across the city, the nation and the world.
And yet, nothing much has changed in police accountability and community relations.
For the Garner family, the issue on the table is justice, and not the $5.9 million settlement offered by City Comptroller Scott Stringer Monday. The family had sought $75 million.
Almost a year to the day that Garner died as a result of the chokehold and assault by NYPD officers on Staten Island, the city announced the settlement, which drew a large media contingent to the National Action Network Tuesday morning.
"Money is not justice," the Rev. Al Sharpton said, surrounded by members of the Garner family, Garner's widow, Esaw; his children Eric, Erica and Emerald; and his mother, Gwen Carr. "Money is the recognition of the loss of the family. But it does not deal with the criminal and the other wrongs done to this family."
On Monday, according to accounts from those familiar with the case, seven members of the Garner family signed the two-page release form. Because this settlement was without a trial, it does not specify how the money will be divided among the members, including a child Garner had with another woman.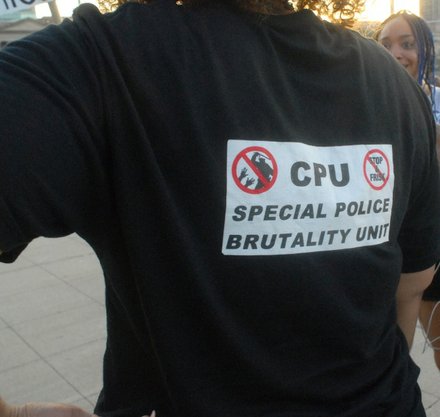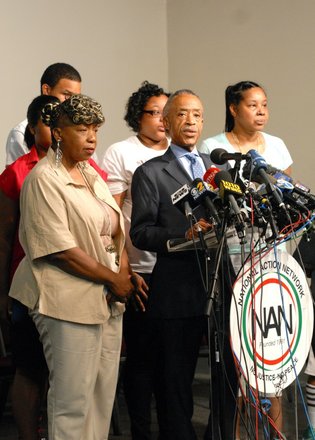 The Garner family, Sharpton continued, began their commitment for justice, not only for their personal loss but also for others who have been denied justice. "This was an agreement [the family] made almost a year ago and that's the agreement we reiterate today," Sharpton said.
None of the lawyers for the family, particularly Jonathan Moore, were at the press conference. "We did not have them on the platform because this is about the family and justice, not about a breakdown of the lawsuit," Sharpton explained.
After thanking the attorneys and NAN, Esaw Garner reflected on what her life is like without her husband. "Now, I have no one but my children, and I'm alone to deal with this the rest of my life," she said. "But I want to thank all of you for your support as we continue to fight for justice."
Carr said she is still waiting for the federal government to come and take the case. "We've been asking them for a whole year because … we didn't receive justice from the grand jury, even though my son said he couldn't breathe eleven times," she said. "They chose not to indict, so where is the justice?"
Erica Garner and Emerald Snipes-Garner spoke, and each of them expressed the sadness of their lives without their father. "No amount of money is going to bring my father back," Erica Garner said. "So we are going to continue to fight for justice."
"We are not going to forget what happened to Ramarley Graham, or Sean Bell or Amadou Diallo," said Snipes-Garner, citing the names of other victims killed by the police. She said that's why they are calling the series of protest rallies over the week "Lest We Forget."