'Money isn't justice:' says Sharpton as City settles in Eric Garner case
Herb Boyd | 7/16/2015, 10:55 a.m.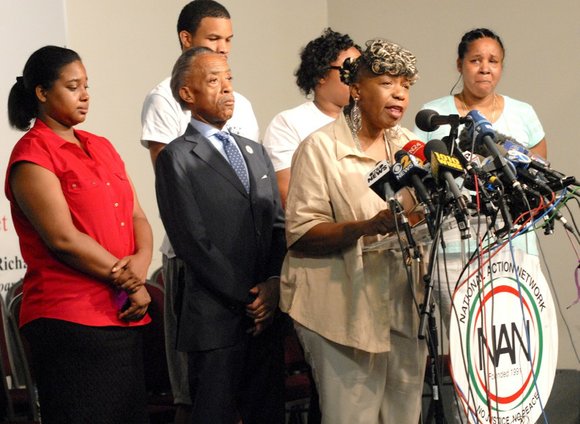 Stringer was not at the press conference, but earlier his office released a statement about the settlement. "Following a judicious review of the claim and facts of this case, my office was able to reach a settlement with the estate of Eric Garner that is in the best interests of all parties." The settlement is a record deal for a settlement before trial. Abner Louima, who was sodomized by police officers in 1997, received $8.7 million from the city after a trial.
"We are all familiar with the events that led to the death of Eric Garner and the extraordinary impact his passing has had on our city and our nation," Stringer added. "It forced us to examine the state of race relations, and the relationship between our police force and the people they serve. While we cannot discuss the details of this settlement, and the city has not admitted liability, I believe that we have reached an agreement that acknowledges the tragic nature of Mr. Garner's death while balancing my office's fiscal responsibility to the city."
Because Sharpton and the family took no questions at the press conference, it was not possible to get any details about the accepted settlement. It is clear that they will continue to press for justice, insisting that it's not about the money.
According to several reports, the agreement with the city does not cover the private hospital that sent the first responders, although one report says that a settlement was made but no details are available.
Moore said the mission was far from completion. "But at least it brings a measure of justice to the family," he told the press.

Mayor Bill de Blasio said he hoped the family "could find peace and finality."
The finality may be delayed until justice arrives.
"It is sad that people get away with murder, especially by those who are supposed to be protecting us," Eric Garner's sister Ellisha Flagg told the Amsterdam News in reference to Pantaleo. "For the jury not to see that this was wrong is just sickening. So we are still out here doing what we have to do fighting for justice. Nobody's worried about a settlement. Nobody's worried about who can do whatever for us because we always took care of ourselves. We are going to make sure that we get justice for Eric, because he is not here any more, so we have to do it for him."
In the wake of Garner's death, nationwide a number of other police-involved deaths of unarmed Black people have occurred, including Tamir Rice, Walter Scott and Freddie Gray.

Six Baltimore police officers have been brought up on murder charges in the Freddie Gray killing, which set Baltimore ablaze. The Tamir Rice case has yet to be presented to a grand jury.
Former North Charleston police officer Michael Slager, who shot Walter Scott in the back, has been charged with murder and now resides in the same jail as "Charleston Nine" killer Dylan Roof.
In New York, though, around this time last year, the then Staten Island D.A. Daniel Donovan's grand jury declined to indict Pantaleo.