50 years after Selma march, youth activists follow in footsteps
Natasha Ashby | 7/23/2015, 10:20 a.m.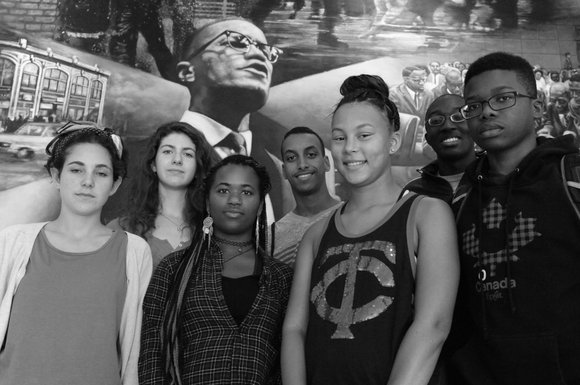 In 1965, Civil rights activists marched from Selma to Montgomery, Ala. Exactly 50 years later, 24 Black and Jewish high school youth activists are spending 25 days throughout July on a cultural and historical civil rights journey across six states and 16 cities for free, courtesy of Operation Understanding DC.
Last week, the group stopped in New York City to visit Harlem, the Jewish Children's Museum, Masjid Malcolm Shabazz and Riverside Church. Along the way, they met with many speakers, including filmmaker Lacey Schwartz, freedom rider Lew Zuchman, author Jamal Joseph and others.
The most meaningful part for Tomas Samson, 17, was the opening retreat for the summer journey. Students interacted, and responded to questions and prompts.

"To hear what they had to say was really interesting because it's not exactly what you grew up with or heard of before," Samson said. "I didn't know there were many different parts in the Jewish community like Orthodox, Conservatives, and many others."
They toured the Malcolm X and Dr. Betty Shabazz Center and met with daughter Malaak Shabazz to hear her story of coping with her father's death and continuing to pursue his vision for a more just world. 
"We ask you to think about not only what impact does this all have on us but what impact do we have on the people we share it with," said Avi Edelman, OUDC program director.
For 17-year-old Jordana Meyer, the Lower East Side Tenement Museum was an exciting experience.
"We had a conversation about what it means to be an American, how an immigrant should or shouldn't assimilate and what non-Americans and Americans perceive as stereotypically American," Meyer said. "It was an interesting discussion and debate on what traits an American should or does have.
OUDC is an 18-month regional program with the mission to build a generation of African-American and Jewish leaders together by promoting understanding and cooperation with the explicit goal of ending racism, anti-Semitism and all forms of discrimination.
Since joining the program, Drew Hickman, 17, expected to further her cultural education.
"This is like your history class times 10," she said. "I'm learning more than what we're usually taught about our history, and I can enlighten your average person who might not know what I'm learning about."
They visited Borough Park, one of the largest Hasidic and Orthodox Jewish communities. For Hickman, it was unlike anything she'd seen before, but she didn't feel uncomfortable for being different.
"If I was put in that situation, I would be in such a culture shock, and it would be hard for me to adjust," Hickman said. "On Shabbat, the day of rest, the streets are shut down and no one uses electronics. It amazed me how they can drop everything."
Students also met with a panel from SCAN's Gay, Lesbian, and Straight Supporters program and learned about queer culture. 
"When we talk about current events like LGBT rights, the queer movement and religions, which are like moral backbones to who we are a lot of the time, people have very different opinions in the group. It can get intense because someone is defending stuff they think is the way to live your life," said Caleb O'Brien, 17.