'Beautiful Sea' indeed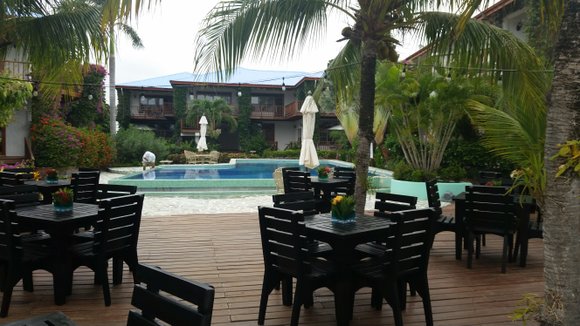 Their motto, "Beauty by Belize, Luxury by Design," is an apt way to describe the Chabil Mar Resort, an awe-inspiring, boutique, luxury villa property in the beautiful country of Belize. And it doesn't take long to understand why it has been featured in numerous A-list travel publications and television shows, and was awarded the TripAdvisor 2015 Travelers' Choice award.
Nestled at the far southern end of the Placencia Peninsula, Chabil Mar (Mayan for "Beautiful Sea") encompasses 22 absolutely gorgeous villas built with such great attention to detail throughout that it makes them feel nothing short of being in someone's home.
The kitchens are highlighted by beautiful granite countertops with barstool seating, multicolored tile backsplashes, Belizean hardwood cabinetry with arched glass insets, stainless steel appliances (frig, stove/oven, microwave, dishwasher), a blender, mixer and coffee maker, and they are fully stocked with premium dish sets, glassware, silverware, serving plates and utensils, plastic containers, a cheese grater—everything one would have purchased for one's own home, including a stackable washer and dryer in the hall closet.
The stylish, upscale decor throughout is a seamless yet eclectic combination of original Mayan, Belizean and Caribbean artwork, pottery, decorative bowls, vases, sconces, table lamps, local artifacts and furniture, while the spectacular bathrooms feature expressive Mexican tile along the walls, in the his and hers sinks and backsplashes, and in the open, step-down showers with rain showerheads.
The spacious 1,000-square-foot living rooms have a flat-screen TV and DVD player, a dining table for four with leather high-back chairs, a couch and side chair with oversized cushions and pillows and a large area rug under a handcrafted coffee table, plus numerous ceiling fans and a multi-zone air conditioning system.
The bedrooms all have king-sized beds with luxury 400 thread-count sheets, handsome side tables and ample closet space. In each room, the windows and doors have rattan shades accented by striking 8-foot-long draperies.
Outside, each villa has its own private verandah with a wrought iron table, chairs and a canvas umbrella, some also with an inviting hammock.
OUR OWN PRIVATE PARADISE
As we strolled around the resort for the first time, we were impressed at how every member of the staff, upon seeing a guest, immediately stops what they were doing, comes over to personally greet you and proudly states their name and title. It's a genuine personal touch that goes above and beyond.
Verdant palms and trees dotted around the property include coconut, dracaena and royal; bread, lime and mango fruit; ficus; and an approximately 40-foot-tall ceiba tree, which the Mayans believe to be a sacred connection to the three layers (death, life and paradise) of the world.
We also marveled at the property's lush tropical gardens and almost two dozen topiary animals created by their self-taught topiary artist and resort gardens and landscape manager, while also tip-toeing along a stone pathway leading to an ensconced massage cabana facing the Caribbean Sea beyond.
One of the things that makes Chabil Mar so unique is that it does not have any indoor facilities. Rather, everything is open and inviting to experience and enjoy the natural al fresco ambiance.