'Beautiful Sea' indeed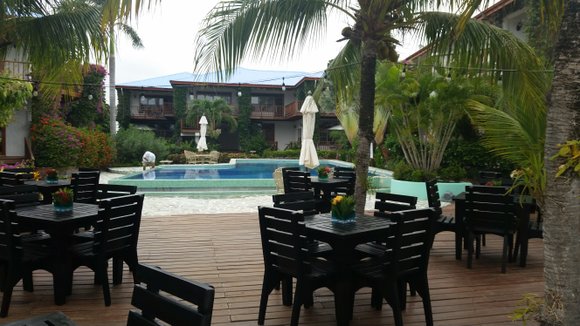 This ambiance includes 400 feet of private beachfront with a private pier from which you can swim, two infinity pools, Kaleidoscope Bar & Lounge and oodles of comfy chairs and chaise lounges with plush, multi-colored pillows throughout. For adventurous pursuits, you have full access to sea kayaks, bicycles, fishing gear and golf carts to ride into town.
The dining options here are designed to suit your particular desires as well. Just order something for breakfast, lunch or dinner from the menus in the villa book that suits your fancy, and they will prepare and set the table for you in your villa, on your verandah, poolside, at the beachside dining area or, for a special occasion, at the end of the pier.
If you've bought groceries in town (only a five-minute complimentary shuttle ride, 10-minute bike ride or 20-minute walk along the main road or the beach into the hub of Placencia Village), you have the option of cooking in your villa kitchen or on one of their gas grills by the Kaleidoscope Bar.
The resort also offers "You Catch It, We Cook It" for just $20 per person with accompanying vegetables for whatever fresh fish or seafood you purchased or caught on a fishing excursion. We did this one day with fresh lobster tails we bought right off the daily fishing boats at the marina and in only 20 minutes they transformed it into an incredible culinary feast!
One of our favorite meals was at their once-a-week Grill Night, featuring a wide variety of fish and seafood entrees, sides and desserts cooked al fresco to order and set against a backdrop of live music and dancing from a local Garifuna Band.
FEELS LIKE HOME
Given all that Chabil Mar has to offer, you'd expect the price to be something only available to the rich and famous, but it's quite the opposite, making it a fantastic accommodation option for single travelers, couples, families with children and groups. However, it's the hospitality and the feeling of home that really takes it over the top.
As much as we hated to leave, the shuttle van had arrived to take us to the marina for a ride to another amazing resort only accessible by boat to spend the second half of our Belize vacation.
And the adventure continues …
Lysa Allman Baldwin is a freelance writer and the publisher and editor of Amazing Escapades, featuring "adventures for the mind, bod and belly" (www.amazingescapades.com).