Dear Mayor de Blasio, Expand 'Begin Again'
Brooklyn D.A. Kenneth P. Thompson | 7/23/2015, 9:54 a.m.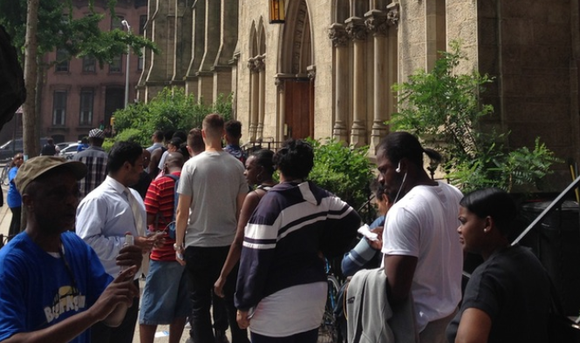 At present, the city has roughly 1 million open summons warrants. These outstanding warrants for minor offenses are eroding the public's trust in the fairness and effectiveness of our system of justice. As the city grapples with its broken summons system as a whole, I urge you to address the warrant crisis in particular by replicating in all the boroughs Brooklyn's Begin Again community-based initiative—a thoughtful, measured and proven way to deal with this crisis head on. We simply cannot continue down this path any longer.
This past Father's Day weekend, over 1,000 people, from all five boroughs, came to a church in Clinton Hill, Brooklyn, to take responsibility for, and to clear, their open "failure to appear" summons warrants. At times, the line stretched down the block. My office, in partnership with the New York City Police Department, the Office of Court Administration and the Legal Aid Society, was able to clear nearly 700 such warrants over the two-day period—the most summons warrants ever cleared in Brooklyn during a similar time frame. Clergy, elected officials and other community leaders collaborated with us to achieve this impressive result.
However, Brooklyn cannot tackle this problem alone. Even with our unprecedented success on this front, we were able to clear just a small fraction (less than 1 percent) of the city's open summons warrants. Imagine, however, the progress that could be made if Brooklyn's Begin Again initiative were replicated in multiple locations in each borough throughout New York City.
Even as Brooklyn has taken this progressive step toward addressing these outstanding warrants, New York City as a whole is behind the times and falls short of several other municipalities in this effort. Recognizing that an old open warrant for a low-level offense can have a disproportionate and unintended adverse impact on both the individual and the police, not to mention community-police relations, several jurisdictions nationwide have implemented warrant amnesty programs to address a concern over these warrants. For example, Atlanta offers a warrant amnesty period as a "goodwill gesture." In Tulsa, Okla., the authorities have set up five locations over a five-day period for warrant resolution. Even Texas has taken action toward establishing a statewide warrant resolution program.
The time is now for New York City—a city that has always been a national leader in criminal justice reform—to step up and take action to resolve the pressing problem of open summons warrants that unnecessarily bog down our criminal justice system and waste resources.
The staggering number of these warrants can be traced to a number of factors. Among those factors appears to be a practice of automatically issuing a bench warrant on the first instance of a missed court appearance—regardless of any reason that the individual might have had for his or her absence. Once the court has ordered the warrant, any future contact by the individual with law enforcement, even for a minor violation, will result in handcuffs, a trip to the precinct and possibly a night or weekend in jail. Because this outcome is so often disproportionate to the underlying low-level quality-of-life offense, it unnecessarily but invariably escalates tension between the individual and the police. Additionally, bystanders, baffled by the police action they are witnessing, may simmer with suspicion and resentment, potentially exacerbating community distrust that hobbles law enforcement and, indeed, that can endanger our police officers.