'Justice or Else': Youth gather for panel discussion in preparation for 20th Anniversary of Million Man March
Leonard Muhammad | 7/23/2015, 10:42 a.m.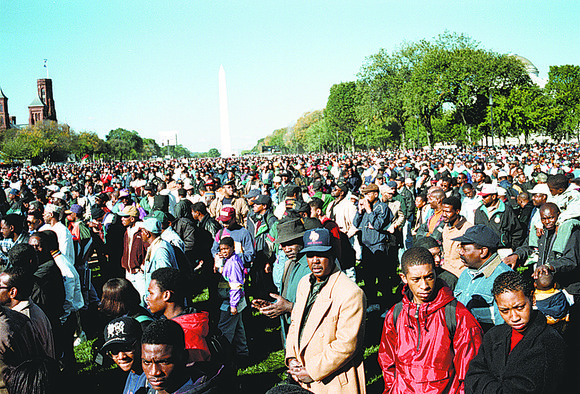 Student Minister Nuri Muhammad warned that Black folks need to be cognizant that the "Blu Klux Klan" is being allowed to terrorize the Black community and that its agenda is clear in terms of containment, brutality and non-accountability.
The comments come in the wake of Minister Louis Farrakhan's announcement of his "Justice or Else" rallying cry for his Oct. 10 (10.10.15) 20th anniversary commemoration of the historic Million Man March in Washington, D.C. Muhammad, the student minister from Mosque 74 in Indianapolis, said the "or else" is to be determined, but no longer can a people under attack not react in a way that is necessary to adequately defend themselves.
Saturday, July 11 in Brooklyn, N.Y., young brothers from Muhammad's Mosque No. 7 in Harlem and Muhammad's Mosque No. 7c in Brownsville joined with members of the December 12th Movement to host a panel discussion entitled, "Separation: Justice or Else," before a packed crowd, with members of the community crammed at the door of Sista's Place on Nostrand Avenue in Bed-Stuy.
In cities across America, organizations are gearing up for the 10.10.15 "Justice or Else" rally in Washington, D.C. The gathering marks the 20th anniversary of the historic Million Man March, in which nearly 2 million Black and Brown men came together to seek atonement and take greater responsibility in their families and communities. This time around, Farrakhan and other organizers are calling on a wider range of the human family, including Blacks, Native Americans, Latin Americans, women, war vets and poor whites to stand together and demand justice from the United States government, or else.
At the community gathering at Sistas' Place, panelist engaged in a spirited Q&A session. The panelists included Brother Mysonne, a rapper from the Bronx who has been on the frontline of the justice movement against police brutality; Brother Jamal, a member of the December 12th Movement; and Student Minister Muhammad, representative of the Nation of Islam and Minister Farrakhan, who later that evening also spoke to thousands at the Brooklyn Hip-Hop Festival.
When asked about the meaning of "or else" by one of the audience members, Muhammad reminded them of when parents say, "Clean up your room or else!" He assured the audience that "or else" is a threat.
Muhammad added that first, the people must do some calculations to pinpoint exactly what justice looks like. He gave the example of wrongful death cases, asking, "How much are we owed for 600 million wrongful deaths?" He explained that once it is known what justice looks like, then people can apply the "or else" when justice is not given. He also encouraged the audience to prepare to "discipline the Black dollar." He explained that the first layer of the "or else" will be economic sanctions imposed by the Black community on America. The crowd repeated the mantra, "Spend with your brother, before you spend with another," several times throughout the discussion.
Asked how they would get young people involved in preparations for 10.15.15, Muhammad told the Amsterdam News, "Our youth are on a certain frequency … the language of youth is warfare, so when you are young between 16 and 40, your mindset is all geared on waging war. You're not into sports and fun. You're into battling and having victories. So the way we can appeal to young people is to activate the militant propensity that is found in them and give them something to fight with and to fight for. Otherwise, they are going to keep being soldiers for the enemy and fighting each other."