Mothers Mourn: Families of men killed by police come together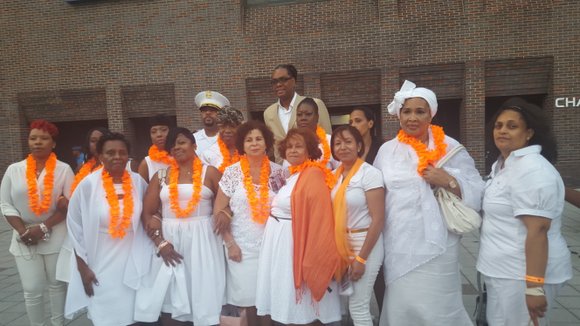 "I'm feeling a little overwhelmed, kind of emotional, trying to fight back my tears," Esaw Garner told the Amsterdam News, "but all the support from the people empowers me to keep getting the word out that we want justice for my husband, Eric Garner."
Asked what she does in her quiet time, the now-single mother of four said sadly, "I try not to have any quiet time. I keep myself busy. I try to keep my mind off of it."
Commemorating the one-year anniversary Friday, July 17, dressed in all white with splashes of burnt orange, mothers of the slain were escorted by an honor guard into a gathering in Restoration Plaza.
The event was organized by Garner's sister Ellisha, who decried the arrogance of errant officers who "get away with murder." She told the Amsterdam News that the family will not be placated by the settlement with the city last week of $5.9 million. "They can't keep us quiet with blood money. We want justice for my brother. We want the feds to take the case, and for officer [Daniel] Pantaleo to be indicted."
The list of mothers who came out to support the Garner family, even in the wake of their own losses of children, is heart wrenching, and yet, sadly, still only the tip of the iceberg.
Seated on the stage were Garner's mother, Gwen Carr; Sean Bell's mother, Valerie Bellamy (her granddaughter Jada Bell was a part of a performing DeVore Dance Center troupe); Trayvon Martin's mother, Sybrina Fulton; Oscar Grant's mother, Wanda Johnson; Ramarley Graham's mother, Constance Malcolm; Michael Brown's mother, Lesley McSpadden; Anthony Baez's mother, Iris Baez; Muhammad Bah's mother, Hawa Bah; and Anthony Rosario's, mother, Margarita Rosario, along with Alberta Spruil's niece, Cynthia Howell.
Their evening was not done. The family went both to the Rev. Herbert Daughtry's House of the Lord Church in Brooklyn and to Pastor Emeritus Dr. Wyatt Tee Walker's Canaan Baptist Church in Harlem.
Speaking of cops who have slain civilians, Daughtry said, "Rather than bring protection, they bring death. We have been here before, over and over again."
The ceremony at Daughtry's church, sponsored by Carr, was a service for the mothers of police-slain children, who wore all white with orange garlands around their necks to represent their movement toward racial congruity.
Carr told the Amsterdam News her courage is attributed to her faith. "The lord gives me strength in order to smile," she said. "Without him, I don't know what I'd do."
Saturday, hundreds converged on Cadman Plaza in downtown Brooklyn in front of the U.S. District Court for the Eastern District of New York. Over a span of three hours there were renewed calls for federal action in the latest chapter of Garner's family's yearlong push for police accountability and reform and the demand that the U.S. Department of Justice indict NYPD officer Daniel Pantaleo on civil rights charges for placing Eric Garner in a fatal chokehold last year. The protest was one of the many events held across the city last weekend to mark the first-year anniversary of Garner's death.