In Belize, paradise found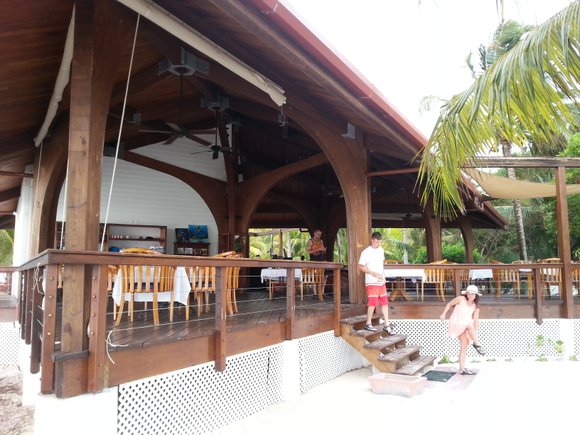 Also included is a fantastic snorkeling excursion (with just a national park entrance fee), where you swim with sand sharks, sea turtles and a wide array of the largest, most spectacular variety of stingrays you have ever seen. For an additional charge, you can get scuba dive certified and go out on a guided reef tour or arrange for a private, in-cabana crow's nest or end of the pier spa service.
A TASTE OF THE ISLAND
It doesn't take long to get into the groove here, especially at meal times, which really impart the meaning of "Island Time"–unrushed and peaceful, allowing you to soak in the ambience, savor the culinary flavors and dream about what life must have been like before mass tourism became the order of the day.
All meals are at the open pavilion Lionfish Grill, highlighted by a wide array of fresh, seasonal specialties. Among the tasty offerings we enjoyed was an "Island Breakfast" with black beans, fry jacks, fried lionfish and their special hash browns; homemade French toast; bacon and eggs Benedict; shrimp and chicken quesadillas; lobster and shrimp risotto; shrimp fettuccine Daviolo; spicy curry shrimp with rice and vegetables; and Greek salads.
But their most interesting entrees included lionfish, an exotic, beautiful and oddly enough invasive, venomous marine fish that when carefully pulled and scaled is absolutely delicious to eat, as evidenced by the numerous delicious lionfish dishes they serve including fish and chips, nachos, burgers, quesadillas and other lionfish creations.
Also under the pavilion is an inviting bar serving a bevy of specialty cocktails, wine, spirits and after-dinner libations, as well as a spacious reading and game area, complete with comfy chairs, benches and play everything from cribbage to dominoes, cards, Jenga, chess, Buzzwords, Trivial Pursuit, Scrabble and poker.
During our stay we did nothing and everything, and in such an unparalleled island environment that it would be hard to find anything else that comes even close to it, except buying or renting (which they do allow here for family reunions and special groups) your own island paradise.
Hatchet Caye is a true treasure and a unique gem that just has to be experienced at least once a lifetime.
LOCATION, LOCATION, LOCATION
I would be remiss if I didn't mention that because of Belize's location bordered by Mexico to the north, Guatemala to the south and west and the Caribbean Sea to the east, it sometimes garners an unfair rap associated with some of the narco-trafficking issues that do happen at times in and between the surrounding countries. But to paint a broad, all-encompassing, speculative brush across this beautiful country would be akin to saying that because there is crime in one major U.S. city (take New York City, for example) that it applies to everywhere and should be avoided.
On the contrary, Belize is overall a very safe, welcoming country where you will find some of the most genuinely, warm and accepting people, who only desire to be accepted as the beautiful souls that they are and who live to share a real exchange of energy and passion. It goes back to what I said before, that once you come here, you will "Belize" it!
Lysa Allman Baldwin is a freelance writer and the publisher and editor of Amazing Escapades, featuring "adventures for the mind, bod and belly" (www.amazingescapades.com).