Bobbi Kristina to be buried in New Jersey
Natasha Ashby | 7/30/2015, midnight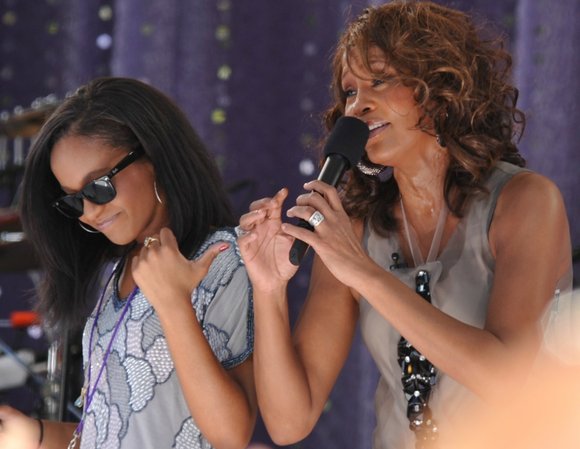 Bobbi Kristina Brown will be buried next to her mother in Westfield, N.J., Monday. Her funeral services are set for 11 a.m. Saturday at St. James United Methodist Church in Alpharetta.
The only child of Bobby Brown and the late Whitney Houston, she passed away in an Atlanta hospice Sunday, surrounded by her family. Her death comes six months after she was found facedown and unresponsive in a bathtub in her Roswell, Ga., home.
She was 22 years old.
"Krissy was and is an angel," Bobby Brown said in a statement. "I am completely numb at this time. My family must find a way to live with her in spirit and honor her memory. Our loss is unimaginable. We thank everyone for the prayers for Krissy and our family as we mourn my baby girl."
Missy Elliott tweeted, "My heart is truly heavy. May u rest in peace with your mommy #BobbiKristina sending prayers 2 the Brown/Houston family. No parent ever think of burying their child be4 they go so extra prayers 4 Bobby Brown & Cissy Houston Rest #BobbiKristina."
Her passing comes just three years after Houston's, who was discovered in a bathtub at the Beverly Hilton Hotel, in Beverly Hills, Calif., in February of 2012.
Houston's Facebook page paid tribute to Brown, saying, "It is hard to say goodbye. On Sunday, July 26, Bobbi Kristina Brown made her transition peacefully. The family thanks everyone for their loving thoughts and prayers. As Bobbi Kristina would say: 'The wind is behind me and the sun is in my face.'"
Her passing brings the end to a long family struggle for her recovery, as she was on life support until she was moved to hospice care last month.
Long-time boyfriend and one-time rumored husband Nick Gordon was not by Brown's side at the time of her passing. He wasn't allowed in the room.
Their relationship sparked controversy. Initially reports stated that Houston raised Gordon as one of her own, although he was not adopted into the family. He became romantically involved with Brown publicly after Houston's death. They were never married, although the couple referred to each other as husband and wife.
Gordon and Brown were living together when she was found unconscious in her bathtub. He and their friend Max Lomas attempted to revive her with CPR. Upon arrival, paramedics took over and rushed Brown to North Fulton Hospital in Roswell. She was put into a medically induced coma. In March, she was transferred to a long-term care facility until her health worsened and she was moved to the hospice, where she spent her final days.
Many questions were raised by Brown's family about her near-drowning incident and whether Gordon was involved.His relationship with the Houston and Brown families was anything but pleasant. A restraining order was placed against him in April of 2014 by Pat Houston, wife of Whitney Houston's brother Gary and executor of Brown's trust fund, after alleging Gordon made threatening comments about her and her family.