Bobbi Kristina to be buried in New Jersey
Natasha Ashby | 7/30/2015, midnight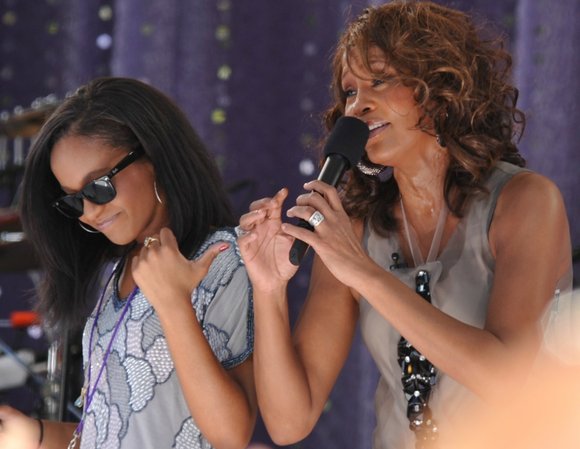 Gordon is still under investigation after a $10 million lawsuit filed on behalf of Brown by conservator Bedelia Hargrove. She accused him of physically abusing Brown just hours before she was found in the bathtub. The lawsuit also claimed Gordon took $11,000 from Brown's account without permission after she was hospitalized. He maintains his innocence.
In March of 2015 and before checking himself into rehab for substance abuse, Gordon expressed to Dr. Phil how much he wanted Brown and Houston back. He also said he hated Bobby Brown.
Their public feud stemmed from the lack of Gordon's participation in the investigation and his inability to visit Brown. Gordon did not agree to the conditions set by Brown's family to see her.
Gordon's mother, Michele, said, "The passing of Bobbi Kristina is devastating to Nick and our family. Nick loved and cared for Krissi deeply, and he has suffered greatly each and every day they've been apart. Nick and our family are in mourning, and we ask that you respect our privacy. Our thoughts and prayers are with both the Houstons and the Browns during this difficult time."
According to the Fulton County medical examiner's office, Brown's preliminary autopsy results revealed no obvious cause of death or significant injuries. The investigation is ongoing.
A number of celebrities reached out via social media and expressed their condolences.
Angela Bassett tweeted, "Children are God's most precious gift to us. In Him we live & breathe & have our being. In Him we trust that death is not the final arbiter, that pain will not endure always, that loving memories will envelop us … and as life goes on, we live in hope and expectation of God's sufficient and eternal grace. My heartfelt prayers & deepest condolences to the Brown-Houston family."
Sherri Shepherd tweeted, "Motherhood changes you … you don't live for you, you're living for your children Whitney Houston #RIP Bobbi Kristina."
Mariah Carey tweeted, "Heartfelt prayers & condolences from the bottom of my heart to the family of Bobbi Kristina Brown. My thoughts are with you. #BobbiKristina."
Ciara tweeted, "Lost For Words About The Life Story Of Whitney and Her Daughter Bobbi Kristina. Praying For The Houston and Brown Family. #RestinPeaceBobbiKristina."
Alicia Keys tweeted, "My heart, thoughts and prayers are with the family of #BobbiKristina. May she rest in peace in her mother's arms."
Ludacris captioned an Instagram photo, "words can't express how sad both of them being gone feels R.I.P."
Deborah Cox tweeted, "My deepest condolences to the Houston and Brown family as we've lost a young life filled with promise, a soul gone too soon. R.I.P. Bobbi Kristina."
Oprah Winfrey tweeted, "Peace at Last! #BobbiKristina."
In 2009, Houston performed on "The Oprah Winfrey Show" and appeared for her first interview in almost seven years. Sitting in the audience was 16-year-old Brown. Winfrey shifted the conversation to Brown, and she described their mother-daughter relationship. With a huge smile on her face, Brown could hardly find the words to describe the love she shared with her mother.
"Words can't explain how proud I am of her," she said. "I've been there with her, you know, through everything ... I stay by her side. That's like my best friend. That's like my sister."
"It wasn't easy, but she never let go of my hand," Houston said. "And I never let go of hers."
Brown appeared again on "The Oprah Winfrey Show," but this time, struggling to deal with her mother's death.
"I can hear her voice in spirit talking to me," Brown said. "'Keep talking to me. I got you.' She's always with me. I can always feel her. I can always feel her with me. She always asked me, 'Do you need me?' And I caught myself, out of nowhere, I didn't even know I said it. I said, 'I'll always need you.'"
She repeatedly expressed the love she had for her mother on social media.