Misty Copeland, Carmen de Lavallade, Raven Wilkinson discuss race, ballet
Zita Allen | 7/30/2015, 10:30 a.m.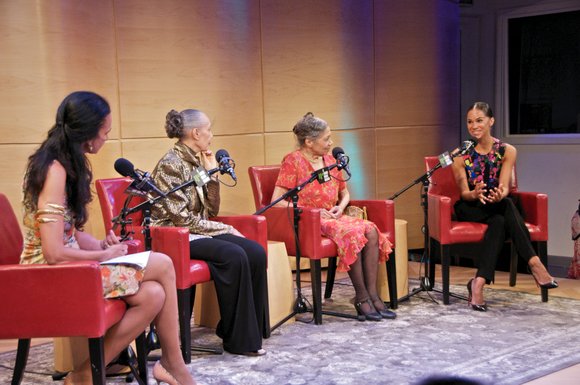 Friday, July 17, still aglow from the promotion that made her the first African-American principal ballerina with American Ballet Theater, Misty Copeland joined three other remarkable artists for a frank, informative and inspiring discussion of ballet and Black women, barriers and breakthroughs.
Entitled "The Breakthrough," the conversation was moderated by TV producer, author and former vice chair of ABT Susan Fales-Hill and included Copeland, Raven Wilkinson, the only Black ballerina in the legendary Ballet Russe de Monte Carlo, and Carmen de Lavallade, performer, dancer, choreographer and wife of the late Geoffrey Holder.
The audience that packed the intimate lower Manhattan venue for the program, hosted by WNYC radio included Apollo Theater's Jonelle Procope, Studio Museum's Thelma Golden, Schomburg Center's Khalil Muhammad, ABT trustee Valentino Carlotti, Ailey school's Melanie Person, Jones-Haywood Dance School's Sandra Fortune-Green and others.
The discussion was, in turn, moving, funny, revealing and insightful, as the women candidly shared truths about their challenges as African-American artists, the passion that sustains them and their commitment to the next generation.
Scheduled before Copeland's milestone promotion, Fales-Hill said the initial intent was to focus on her historic performance in "Swan Lake" in the "quintessential ballet role of Odette/Odile, a role so canonical that one of Raven Wilkinson's colleagues at the Ballet Russe once said to her, 'Don't even try for it, darling, because a Black woman will never perform it.'" Triumphantly, Fales-Hill declared, "Well, we proved her wrong, didn't we?"
Fales-Hill linked Copeland's breakthrough to such game-changers as "Jesse Owens' four-gold-medal sweep at the 1936 Olympics, which gave the lie to theories of Aryan superiority, and Jackie Robinson's joining the Major Leagues and changing baseball forever." She even said, tongue-in-cheek, that Copeland's promotion was "on par with Barack Obama winning the presidency of the United States."
For two hours, the spirited conversation took the audience on a journey through an under-explored corner of the dance world. It began with Fales-Hill asking Copeland how it felt to learn that the dream she had nurtured since she was 13 years old "lying on the floor of your living room in your Hello Kitty slippers watching DVDs of ABT dancing 'Don Quixote,' had come true and now you are a full star of the company?"
Copeland fought back tears and answered with characteristic humility. "Just to be up here with these extraordinary women and remember the many that have done so much and fought even harder than I did to get to this place, this is an incredible moment," she said. "It still doesn't feel real yet."
"I felt ballet really hit the jackpot!" Wilkinson declared, bursting with pride as she told of the phone call from Copeland's manager, Gilda Squire, that was instantly followed by calls from friends as far away as Holland. With frank but dignified restraint, de Lavallade added, "It's about time! It is such an exciting time. It's one of those things all young girls dream of. I know I did. But back then, ballet was kind of off-limits because you didn't feel welcome."