Misty Copeland, Carmen de Lavallade, Raven Wilkinson discuss race, ballet
Zita Allen | 7/30/2015, 10:30 a.m.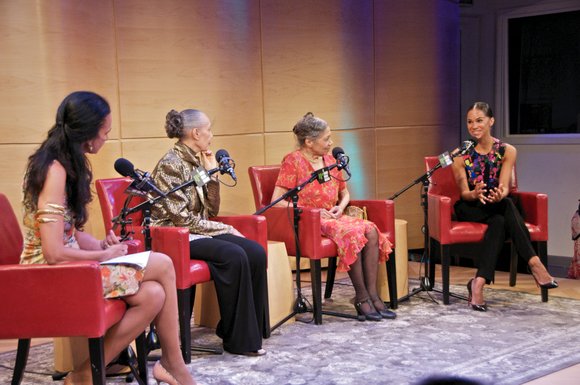 Black dancers have pursued ballet dreams since its inception in this country, Fales-Hill noted, ticking off names that dot the dance-history landscape and even alluding to ABT's early brief flirtation with diversity. De Lavallade recalled what it was like several decades ago when her cousin Janet Collins was told by one ballet bigwig that to join his company she'd have to lighten her skin. Luckily, Rudolf Bing asked only if she could dance, and upon learning that she was every bit as good as critics said, uttered the words that made her the first Black ballerina with the Metropolitan Opera Ballet: "Well, sign her up!"
De Lavallade explained Bing's lack of reservations: "He was from Europe." She was alluding to the fact that for decades, Black dancers shut out of American ballet studios and companies found opportunities in Europe. It's a history too many dance writers have either been ignorant of or chosen to ignore. A Dance magazine article several decades ago entitled "Blacks in Ballet" by this Amsterdam News writer captured a bit of this history, as has a more recent documentary of Ballet Russe.
Copeland says the film made a lasting impression. "It was a shocking recognition that I saw in Raven that kind of woke up something inside me that told me, 'You are part of this history you don't know about.' It made me upset and gave me the powerful desire to share this with the world."
During the recent discussion, the audience had a similar response as Wilkinson shared some of her story. She told of the Ballet Russe's performances in the Deep South during the turbulent civil rights era, confrontations with the Ku Klux Klan and her refusal to "pass" even when a hotel manager confronted her, insisting she go to a "colored" hotel because he was afraid his could be bombed. Then, after years distinguishing herself in major classical ballets, Wilkinson was told she had gone as far as she could go and urged to leave by a staffer who suggested she start her own African dance company. Instead, Wilkinson joined the National Ballet of Holland, eventually returning to the U.S. to dance with the New York City Opera ballet company.
Noting the persistent challenges faced by African-Americans in classical ballet, Fales-Hill asked Copeland how she persevered when some critics insisted her line wasn't classical enough, saying she excelled instead in more modern works. Emphasizing the support she has always gotten from ABT's artistic director, Kevin McKenzie, and most of the artistic staff, Copeland did say there is something "engrained in the ballet culture" that causes many to assume Black dancers are better in modern or contemporary works than the classical ballet lexicon. She recalled meetings early in her career "where I would say, 'You know I wasn't trained as an African dancer, or a modern dancer, or a hip-hop dancer. All I know is classical ballet, and I would like to be pushed in those roles."
Despite the naysayers, Copeland stood her ground. "I had to learn how to talk to them by continuing to say I'm hungry and I'm eager. I want to be a ballerina. I want to do these roles. What do I need to do?"