Obama's return: The President visits the Motherland
Nayaba Arinde | 7/30/2015, midnight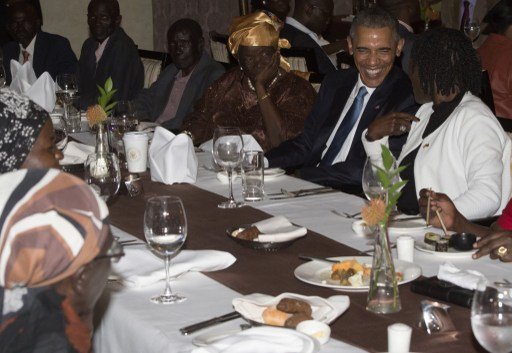 "I actually think I am a pretty good president," President Barack Hussein Obama told the African Union in Addis Ababa, Ethiopia. "I think if I ran again, I could win. But I can't!"

While Republicans in the U.S. probably turned a whiter shade of pale, Obama explained that he was making the point that when it is time to leave office—it is time to leave. "Africa's democratic progress is also at risk when leaders refuse to step aside when their terms end," he said.
The irony of a Bush and a Clinton vying to continue political dynasties in the U.S. was not lost on some observers. Africa's 54 nations were on tenterhooks listening to see if he would speak in depth on America's Africa policy. He did not.
"I am proud to be the first American president to come to Kenya, and of course I'm the first Kenyan-American to be president of the United States," he said, grinning warmly, as he spoke to a packed-to-capacity crowd of almost 5,000 in a gymnasium in Nairobi.
Basking in the cultural pride of his father's homeland, the president wined and dined with his half sister Dr. Alma Obama and step-grandmother, Mama Sarah Obama, and he successfully mastered the beautiful, smooth Lipala dance (sort of like the Kenyan Electric Side). But he wouldn't be Obama if he weren't chastising Black folks for the disadvantages they experience.
He urged the people of Kenya to confront corruption and terrorism. He said that fighting in South Sudan and Somalia coupled with the threat and actuality of Boko Haram and al-Shabaab endangered the whole region. He called on Kenyans to abandon some ancient traditions, such as female genital cutting, and to allow girls and women equal access in a male-dominated society.
"I am very pleased that POTUS has used every opportunity he has to preach to African leaders the evil of corruption and advised them to desist from their corrupt practice," Michael Adeniyi, former president, Organization for the Advancement of Nigerians, told the AmNews. "For example, with an estimated $400 billion stolen out of Nigeria since independence, how does one expect Nigeria to grow and prosper? Education, health care, infrastructure, etc., are decrepit because of debilitating corruption perpetrated on Nigeria. A new breed of African leaders is needed to change course for the continent."
"Africa's strength lies not only in resources, but also some of the most gifted and talented people in the world," said Olanike Alabi, the Brooklyn state committeewoman/district leader, 57th A.D. "President Obama's recent visit is significant. It's an opportunity to strengthen ties in the region, discuss investment opportunities and, most importantly, to address the needs and concerns of the lives of the men, women and children who are still affected by decades of enslavement, colonialism, unstable governments, debt, war, etc."
Either by design or because of convoluted circumstance, Obama did not meet the Southern African Development Community chairman, President Robert Mugabe of Zimbabwe, in Addis Ababa. Yet, he did meet other African Union heads and members, including Kenyan President Uhuru Kenyatta, African Union Commission Chairperson Nkosazana Dlamini-Zuma, Ethiopian Prime Minister Hailemariam Desalegn, Ugandan President Yoweri Museveni and Sudanese Foreign Minister Ibrahim Ghandour.